Your cat would be so much happier if you tried any of these 20 clever things, according to trainers
We only recommend products we love and that we think you will, too. We may receive a portion of sales from products purchased from this article, which was written by our Commerce team.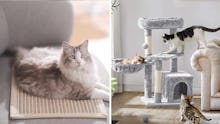 When your cat is unhappy, you will be unhappy. Our felines might be small, cute, and cuddly, but they can share their misery like nobody else. Screaming all night while you try to sleep? Been there. Creating a mess in your favorite part of the house to make a point? Any cat with a modicum of human-manipulation game has tried this. Scratching your favorite couch until it's so shredded you can't even get rid of it in the free section on Craigslist? Sigh. I have been there, too.
The solution is to keep that four-legged drama expert engaged. And to help you get there, we consulted cat experts, trainers, and veterinarians to help solve lots of the behavior problems cats come up with to express dissatisfaction. Because a happy cat takes you a step closer to a happy home. And your cat would be so much happier if you tried any of these 25 clever things, according to trainers.
If your cat is scratching, there are so many solutions for stopping that while your couch is still worth saving. And if it's a relentless crier you've got, there are solutions for that, too — and they work. When the cat is peeing in places they shouldn't, you have to get involved and fix it. And, often — according to the experts — the solution can be much simpler than you think. So read on, locate your feline overlord's issue, and solve it.