You're accidentally making your dog more anxious if you aren't trying any of these things, according to trainers
Expert insight on how to reduce your best friend's stress levels.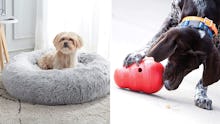 Amazon
We may receive a portion of sales if you purchase a product through a link in this article.
When it comes to owning a dog, there's no official rulebook. In fact, there are so many training techniques and products out there, it can be hard to know if you're succeeding or if you're accidentally making an anxious pup more stressed. That's why I've rounded up some expert advice from professional trainers and vets who work with canines day in and day out.
Along with ideas for reducing stress, they have some fantastic product recommendations that can help keep your dog's mood chill, from a treat-dispensing puzzle toy to a plush, fluffy bed that makes them feel more secure while sleeping.