You're making your home look outdated if you aren't doing any of these things
Tips and tricks for keeping your home looking fresh.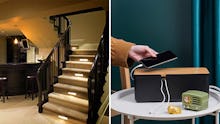 We may receive a portion of sales if you purchase a product through a link in this article.
Everyone has different tastes when it comes to their home decor. But there are some things that can just make your home look outdated or messy no matter how you style it, like having a mess of cords in the corner or having a dingy light fixture from the '70s. Luckily, Amazon has tons of products that can easily help spruce up different corners of your home.
If you want a clean and organized fridge, use these clear bins that can be used to hold eggs, beverages, and condiments. Bring your home into the 21st century with these smart plugs that can connect to Alexa and Google Home for voice-activated use.
Whether you want to change something as small as cabinet knobs or as big as wall paint, this list is full of tips and tricks for keeping your home looking fresh.