Get ready for the James Comey show no one asked for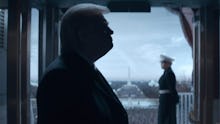 Showtime
There's never been a greater collective impulse to turn to pop culture for explanations of the current moment. As the pandemic emerged, Contagion and Outbreak took on an instructive bent, rising on the download and streaming charts. Following a number of high-profile police killings and the ensuing protests, films portraying systemic racism and the Black experience — including 13th, Malcolm X, and Do the Right Thing — saw a similar surge. By this logic, film and television can help broaden horizons or make sense of a complex issue, but there's always been this weird tendency to exaggerate their impact on the outcomes of, say, presidential elections.
On Tuesday, Showtime set a late November premiere date for its limited series The Comey Rule, based on his 2018 book A Higher Loyalty. The high-budget affair, starring Jeff Daniels as the ousted FBI head James Comey and Brendan Gleeson as President Trump, follows how their relationship disintegrated in the early days of Trump's presidency. Those who've been keeping score in the interceding years might note how this just didn't matter in the broader litany of horrors unleashed by the administration, but that doesn't stop serious civility purveyors from latching onto the bestseller and holding Comey up as an avatar for decency.
It's hard to square why these resources would go to this project to air at an undefined date after the election. In a piece announcing more details about The Comey Rule, Deadline's Mike Fleming entertains some wild theories about Showtime's scheduling practices. "Given the president's penchant for getting involved in media projects he disagrees with...speculation will be that the administration might have used its influence to push the series beyond the presidential election season, where most expected it would air," Fleming writes. Citing Trump's friendly relations with parent company CBS Viacom chief Shari Redstone and Daniels' shuffling to finish the project in time for the election, he's effectively just asking questions on behalf of the Russiagate conspiracy theorists in the room.
This isn't the first time a miniseries' proximity to the election was put under the microscope. When FX announced that Impeachment: American Crime Story, following Bill Clinton's impeachment, would air before the 2020 election, concerns abound about how reopening antipathy for the Clintons might tilt things in Trump's favor. FX chairman John Landgraf budged, citing scheduling reasons for showrunner Ryan Murphy. (Given how much filming has impacted the pandemic, it could still be a long way's off.)
This is a close relative to The Onion writer penning a piece in the vein of I Take Responsibility for rehabilitating Joe Biden's image into a kooky sidekick, instead of a key architect in decades of repressive legislation, from the 1994 Crime Bill to the Iraq War. No one questions that papering over the horrors of everyone from Biden to George W. Bush with memes is harmful, but there's a profoundly self-involved delusion in thinking these can influence an election on a broad scale.
No matter how many years and relitigations of the 2016 election later, the impulse to graft significance onto pop cultural events, or even minor news developments that fall out of memory within a week, hasn't receded. Comey's downfall consumes such minimal headspace for anyone concerned with the larger picture at hand. The last three months and the uncertainty that lies ahead have rendered every preconception about the election into a complete toss-up. Nobody knows what will happen next, but you can say with near-certainty that the 40,000 people in Michigan, Pennsylvania, and Wisconsin who could determine Trump's fate won't be tuning into a Showtime miniseries for guidance.