How to choose the right dutch oven for your next campfire cookout — plus 3 top-rated picks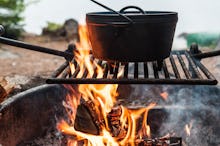 Shutterstock
Dutch ovens are one of those kitchen staples that go back centuries and yet are still beloved today. This heavy-duty cookware is, after all, sort of a do-it-all product: It can be used to bake, fry, simmer, and even roast. All you need to make a warm meal is a grill, hot coals, or just an open flame, which means they're great to pack for vacations in the great outdoors. The best dutch ovens for camping are those made of cast iron because they can withstand the intense heat that comes with cooking over a campfire.
When shopping for a dutch oven for outdoor use, size is a big factor. To help narrow down the right size for your needs, consider how many people you'll be preparing food for:
One to two people: A 2-quart dutch oven is the ideal size for one or two people, so whether you're camping alone, with a partner, or with a friend, this is really all you need.
Three to six people: A 5-quart pot is the better choice for a small group because it opens up more recipe options, like roasting a whole chicken.
More than six people: If you're roughing it with a big group (think six or more people), you may want to go for a dutch oven that's 8 quarts or more. It'll give you all the capacity you need to feed a lot of hungry mouths.
It's also worth noting that cast iron needs special care to make sure it lasts for a long time (and believe me, it will last). Hand-wash yours gently with warm water and immediately dry it with a lint-free towel. This will help keep it from rusting over time. Once it's dry, you'll want to season it by rubbing vegetable oil on the inside in order to create a "seal" to prevent food from sticking.
To help narrow down all the choices out there, I've put together a list of the best dutch ovens for camping.