These are the best enzyme drain cleaners for sinks, tubs, & toilets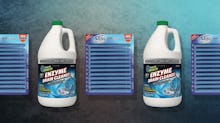 Mic/Amazon
Whether you're looking for an environmentally friendly alternative to chemical-laden cleaners or you don't want to risk corrosion to your home's pipes, the best enzyme drain cleaners will give you a safe and effective way to keep both your plumbing and septic system operating smoothly. Though they're all optimized for breaking down organic matter (like hair, toilet paper, food particles, and other gunk) and eliminating unpleasant odors, the type of cleaner you choose will depend on your drain-clearing needs.
When shopping around, you'll want to remember that enzymatic drain cleaners typically work more slowly than chemical ones and may require multiple treatments (and lots of patience) to completely clear a clog, especially if it was caused by a complex protein like hair. If that's the case, a larger jug of concentrated liquid will be the fastest way to target and loosen up particles. These formulas are often multipurpose, too, so beyond pouring them down sinks, tubs, showers, and toilets, they are also handy for things like erasing pet smells that have been baked into rugs.
If clogged drains are an ongoing issue in your home, prevention will be your best method. Enzyme-based products in pod or stick form will make routine maintenance as easy and convenient as possible since they're formulated to release slowly over time. The most cost-effective way to prevent obstructions in your plumbing, however, will be a powder-based bio-enzymatic cleaner, which uses a combination of enzymes and bacteria to "digest" gunk. Though they will require some preparation, they typically come in generously sized containers with enough treatments for a year or more.
With all that in mind, I've curated a list of the best enzyme drain cleaners on Amazon — these are all biodegradable and can be used safely in all manners of drains.
We only recommend products we love and that we think you will, too. We may receive a portion of sales from products purchased from this article, which was written by our Commerce team.