These men's touchscreen gloves are the functional way to keep your hands warm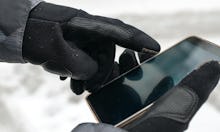 Shutterstock/mastermilmar
There's nothing more annoying, not to mention cold and uncomfortable, than having to take your gloves off every time you use your phone. That's why touchscreen gloves are so convenient, allowing you to access your device via tiny conductive wires that prevent the fabric from blocking the electric charge. In addition to excellent conductivity, the best men's touchscreen gloves typically offer similar features to regular gloves. Those features include:
High-quality thermal insulation: Whether thick and bulky or thin and fitted, your glove's fabric should provide enough insulation to keep your hands warm. It's an added plus if they have a membrane or thin shell to make them water-resistant or fully waterproof.
Flexible material: Nobody likes stiff, uncomfortable gloves, so ones made with spandex, nylon, or other stretchy materials are the best choice. Also look for fabric that's built with four-way stretch for even greater freedom of movement.
Grippy palms: Whether it's from silicone or some other kind of nonslip material, the palms should have texture so that you can hold things (like your phone, for example) without dropping them.
As a bonus, it's also great if your gloves have liners or other soft inner materials that feel cozy against your skin.
To help you find the right pair, I've made a list below of the best men's touchscreen gloves in a variety of styles and colors.