These men's pants feel airy and cool, even when it's scorching outside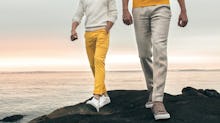 Shutterstock / Nick Starichenko
When all you want to wear is shorts and a T-shirt but your calendar calls for full-length attire, a lightweight, breathable pair of pants is a game-changer. The best men's pants for hot weather are made of natural fibers that feel almost as comfortable as your pajamas.
When shopping for pants that can handle the heat, the material makes all the difference. The best fabrics for hot, humid weather include the following:
Cotton: This soft fabric is known for being affordable and breathable, although it does absorb moisture so you'll want to avoid 100% cotton pants for workouts. Since denim is comprised of mostly cotton, it can also be warm weather-friendly; jeans made of 100% cotton will typically offer the most airflow.
Linen: A textile derived from the flax plant, linen lets heat escape from your body — although it's prone to wrinkling and can take several wears to feel as soft as you'd like.
Bamboo: Derived from the eco-friendly woody plant, bamboo is moisture-wicking and temperature-regulating with an ultra-soft feel and a casual look that's best suited for lounge pants.
Beyond fabric, the best styles of pants for hot weather are unlined and have enough room for air to circulate. Although that usually means a straight leg, even slim-fit jeans can be wearable in the heat if they aren't skintight. Opting to wear light colors will also help you stay cool no matter which style you end up choosing.
These are the six pants for hot weather you'll want to reach for when the mercury rises.
We only recommend products we love and that we think you will, too. We may receive a portion of sales from products purchased from this article, which was written by our Commerce team.