Don't Sweat It: Here's how technology is improving your undershirts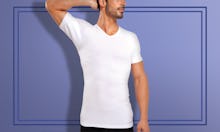 Amazon/Mic
Between the bike rides, hot subway cars, and humid days, sweat happens. Luckily, the best undershirts for sweat are here to make the stains, swells, and wetness one less thing you have worry about.
When it comes to a great undershirt, it's essential to consider material. While "sweat-wicking" fabrics are great for keeping you cool and feeling fresh when playing sports or worn on their own, since they repel water away from your body and into the outer layer they can amplify the appearance of sweat on your button-ups.
So for shirts you plan to mostly wear under other shirts, look for styles and materials that will absorb sweat so it doesn't show through when you're giving a presentation or out to dinner. Cotton is the go-to, but bamboo rayon is another great choice because it's absorbent, resistant to odor and bacteria, and easy to wash. Plus, since bamboo is a fast-growing plant that doesn't need a lot of water to grow, it's also good for the environment.
Those looking for intense sweat-absorption will be thrilled to find that undershirts have gotten quite the upgrade with features like extra armpit protection and eco-friendly materials that help prevent button-up shirts from looking damp.
Whether you're tackling armpit sweat, chest sweat, or all of the above, these are the best undershirts for sweat on Amazon so you don't have to sweat a thing.