These stylish dress socks don't skimp on comfort, according to reviewers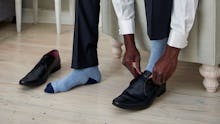 Shutterstock/Daxiao Productions
Whether you're heading to work or lounging around, the right pair of socks can really make a difference in your comfort level. The best men's dress socks will help you look sharp while keeping your feet dry and comfortable all day.
One of the biggest factors that sets a great pair of socks apart from a subpar pair is the material. The best materials for dress socks are usually a blend of a few key fabrics:
Polyester: This versatile fabric is exceptionally good at wicking moisture and sweat, which is why it's so popular for socks. It is also durable and dries quickly. (Similarly, nylon is another great choice for moisture management.)
Cotton: This is where softness and comfort come in. Generally speaking, cotton is one of the softest, coziest materials out there for socks. It's also a good choice for its breathability.
Spandex: This is used to give socks flexibility and stretch. Without spandex (also sometimes referred to as elastane or LYCRA), your feet won't be able to move around as freely, and the socks won't stay in place as well.
In addition to materials, you'll also want to look for qualities like cushioning and blister protection (the latter of which usually comes from a seamless construction).
Now that you're equipped with a better idea of what to look for, check out the list of best men's dress socks I've gathered below.