These are the most comfortable flip flops, according to thousands of Amazon reviewers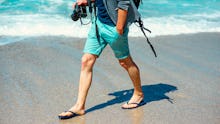 Shutterstock/RossHelen
Whether you're running errands or kicking off a day at the beach, flip flops are an essential part of your summer tool kit. The tricky thing, however, is that lower-profile, thinner-soled shoes often equate to less comfort. To find the most comfortable flip flops for men, you need to think about a few things before making a purchase.
First, consider the footbed. This is the part that makes direct contact with the soles of your feet. Make sure it's constructed with a high-quality material like EVA foam that can deliver the softness and comfort you're seeking.
Next, think about the midsole. This is the section in the middle that provides shock absorption. Without it, your feet will tire more quickly and be more prone to soreness and pain. Read over the specs to make sure the flip flops you're considering have shock-absorbing features.
Lastly, evaluate the sole itself (also called the "outsole"). You want a little bit of shock absorption here, too, as well as good traction. Look for TPR (thermoplastic) or another type of rubber that's durable and able to maintain tread.
As a bonus, you might also consider features like strap quality (are they soft and secure?) and water-resistance (do they dry quickly and stay grippy when wet?).
To help you find the right fit, I've compiled the most comfortable flip flops for men in a variety of styles. Scroll on to find your next summer sandal.