These $38 pants are lightweight, wrinkle-resistant, and perfect for traveling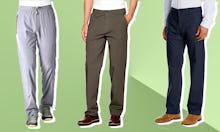 Mic / Amazon
Shopping for travel-friendly pants is a whole different beast than searching for your regular, everyday pair to wear around town. There are certain features that become a lot more important when you're on the road. In order to find the best men's travel pants, there are a few things to consider.
First, the pants should be lightweight. The most obvious reason for this is that they'll be easier to pack and carry. But there's also a good chance you'll be more active than usual while traveling, between taking tours, running to catch transportation, and otherwise trekking around. You may even be heading to a particularly warm destination. For these reasons, having breathable, lightweight pants will make all the difference.
Another thing to think about is how well the pants pack. Materials like polyester and nylon tend to be better at resisting wrinkles, allowing you to arrive at your destination with pants that are ready-to-wear. Some are better at this than others, but I've made sure all of the picks on my list are non-bulky and made from wrinkle-resistant materials.
Lastly, comfort is even more important than normal while traveling. When you're dealing with cramped airline seats or crowded buses, the last thing you want is pants that feel tight, restrictive, itchy, or otherwise uncomfortable — you're on vacation, after all. With all of the options on my list, I checked to make sure reviewers attest to their comfort. I also included a pair of compression pants for people whose legs tend to swell on long flights.
With all of this in mind, read on for the best men's travel pants.