The most comfortable men's walking shoes, according to guys who but in the miles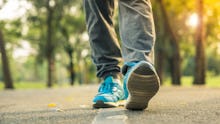 Shutterstock/Jo Panuwat D
There are many factors that contribute to making shoes comfortable for walking, as well as features that make them ideal for travel. The key to the most comfortable men's walking shoes for travel is finding a pair that manages to combine all of these traits and more. So how do you achieve that?
Let's start with comfort. This is typically the result of three main factors: cushioning, shock absorption, and a soft, chafe-free design.
Cushioning typically originates in the midsole. EVA foam is usually the best material for this, although alternatives like polyurethane or cork material can work, too.
Shock absorption also comes from the midsole. It allows you to walk longer and farther without your feet getting sore.
Softness and lack of chafing are linked to the straps or the upper material, depending on the style of shoe. There will be wide variation from style to style, but the important thing is ensuring that the fabric is soft, flexible, and adjustable wherever possible.
As for travel-friendly features, it mainly comes down to weight and packability.
Weight is an obvious factor. You don't want to lug around heavy shoes that weigh down your luggage and feel burdensome to carry around. The trick is to find shoes that are lightweight without sacrificing support.
As far as packability goes, sleek, low-profile designs are the best for travel. This is further aided by flexible materials (think: mesh or other soft fabrics) that bend easily to help the shoes fit in your bag, but rebound well when you unpack them.
To help you find that elusive combination, I scoured Amazon and compiled a selection of the most comfortable men's walking shoes for travel in a variety of styles, from sandals to hiking boots. Read on to find the right pair for your next excursion.