These workout t-shirts keep you cool, dry, & comfortable (no matter how hard you sweat)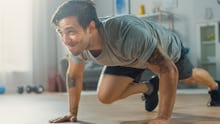 Gorodenkoff / Shutterstock
Whether you're working out or just hanging around, feeling hot and sweaty puts a (literal) damper on any warm day. But the best cooling T-shirts use moisture-wicking fabrics to keep you cool, dry, and moving comfortably.
How moisture-wicking fabrics work
Moisture-wicking fabrics work by pulling moisture away from your skin and moving it to the outer layer of the fabric. While other materials trap sweat close to your body and make you feel hot and sticky, wicking fabrics allow your sweat to actually evaporate, cooling you off in the process.
Choosing a fabric
Polyester is a synthetic fabric that is commonly used for workout gear because it's lightweight, durable, moisture-wicking, and budget-friendly. One drawback of polyester, however, is that it tends to retain odors.
If funky odor is a concern for you, consider Merino wool instead, which is both naturally moisture-wicking and odor-resistant. Merino wool is made of fine wool fibers that feel soft to the touch (unlike other types of wool that are known for being scratchy). It's naturally breathable and temperature-regulating, too, meaning it's insulating in the cold and ventilating in the heat. Merino tends to be more expensive and delicate than polyester, though.
Make sure you steer clear of breathable but non-wicking cotton or non-breathable, non-wicking cotton spandex — when you're sweaty, the last thing you want is a fabric that soaks up moisture and holds onto it.
Other features to look for
Design features like mesh panels are also helpful for keeping you cool, as they allow air to circulate through your shirt. And while it has no impact on keeping you cool, you may also want to opt for reflective details if you'll be running or cycling in your shirt, to make yourself more visible to drivers. Some shirts even come with the ability to help protect you from the sun's rays, which is especially helpful for outdoor wear.
Whether you want a polyester shirt to keep you cool during daily workouts or a Merino tee to wear as a base layer while hiking, the picks below are designed to keep you dry and comfortable no matter how much you sweat.
We only recommend products we love and that we think you will, too. We may receive a portion of sales from products purchased from this article, which was written by our Commerce team.