From a lightweight tee to a heavy-duty hoodie, these merino wool base layers will keep you warm & cozy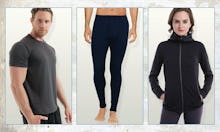 Mic / Amazon
A good merino base layer might be an investment, but it's certainly worth it for its temperature-regulating, moisture-wicking properties that keep you comfortably warm and dry. Whether you're an extreme sports enthusiast or a city dweller, the best merino wool base layers come in weights between 165 and 300 grams per square meter (GSM), providing a layer of warmth without the bulk. The right one for you will come down to the weather you're dressing for and your budget.
While there doesn't seem to be a universally accepted guide to GSM (what is lightweight to some might be deemed mid-weight to others), a merino wool base layer around the 170 GSM range generally makes a good lightweight base layer for relatively mild days. A mid-weight base layer between 200 and 300 GSM will see you through colder temperatures, and heavyweight layers, which typically go from 300 GSM and up, are most appropriate for days with the deepest chill. You might also see the number of microns listed for merino wool garments, which indicates how fine the fibers are — a lower number yields a softer fabric, and around 17.5 to 18.5 microns is considered ideal.
A good merino wool T-shirt can serve as an all-purpose base layer, and it's an excellent way to test the merino wool waters if you're just starting out since they're the most budget-friendly. They can be worn on their own in good weather but are also easy to layer if the temperatures fluctuate. Meanwhile, a wool quarter-zip or hoodie can serve as outerwear but will still fit under a coat if it's especially cold out. For activities like skiing, snowboarding, or hiking in colder weather, you may want to spring for a base layer on your bottom half as well.
From an ultra-fine tee to a heavy-duty hoodie, these merino wool base layers offer warmth without weighing you down, all while delivering big on softness.
We only recommend products we love and that we think you will, too. We may receive a portion of sales from products purchased from this article, which was written by our Commerce team.