The lurid Armie Hammer drama just keeps getting darker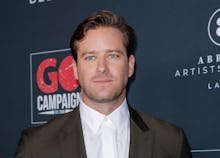 Tibrina Hobson/WireImage/Getty Images
Armie Hammer really thought 2021 would be his time to shine. "2021 is going to kneel down before me and kiss my feet because this year I'm the boss," the actor tweeted on New Year's Day.
A few weeks later, his career was in free fall. Screenshots of DMs allegedly sent by Hammer, describing lurid fantasies of cannibalism and abuse, circulated widely on social media. Then, several women came forward and accused him of psychological abuse, emotional manipulation, and coercing them into non-consensual BDSM practices. Almost overnight, Hammer became persona non grata. He dropped out of two buzzy projects: a rom-com co-starring Jennifer Lopez and a series about the making of The Godfather. He was also dropped by his agency, WME.
At this point, Hammer is reportedly laying low in the Cayman Islands. Meanwhile, movers recently emptied his $5 million Los Angeles mansion under cover of darkness — leaving behind a rope-bound mannequin conspicuously crammed into a garbage can. Well, thanks to an exhaustive exposé on the Hammer drama — including a deep-dive into the actor's scandalous family history — the public finally has more context for that tied-up mannequin and his other proclivities. Spoiler alert: it's really not pretty.
Julie Miller's Vanity Fair article, "The Fall of Armie Hammer," is definitely worth a read in its entirety. (Full disclosure: I had to draw myself a family tree to keep the actor's nefarious forefathers straight.) It offers a fascinating analysis of what can happen when immense wealth and privilege collides with humanity's darker proclivities. Here are some of the most salacious tidbits:
Armie's great-great-grandfather, Dr. Julius Hammer, was convicted of first-degree manslaughter in 1919 for performing an illegal abortion on the wife of a Russian diplomat. The woman died and Dr. Hammer was sentenced to between three and a half and 12 years in Sing Sing.
The actor's great-grandfather, Armand Hammer, made his fortune on Occidental Petroleum and lived lavishly. He had a private jet, was friends with Prince Charles and Senator Al Gore Sr., and attended the inaugurations of FDR, Reagan, and George H. W. Bush, among others.
Six years after he died in 1990, Armand was exposed as a crook who'd been laundering money and using fine art to fund Soviet espionage, among other crimes. He made an illegal campaign donation to Nixon, which likely "went to help pay for the Watergate cover-up," according to The New York Times.
Armand required his children and grandchildren to make appointments to see him. "I started watching Succession and I had to turn it off, because it was like, 'Oh, my God. That's my family," said Casey Hammer, Armand's granddaughter and Armie's aunt.
Armie's grandfather, Julian, killed a man on his 26th birthday, in 1955, over a gambling debt and supposed advances on his wife. The charges were dismissed.
The actor's father, Michael, inherited an art gallery from Armand that was later accused of selling $70 million in fake paintings, all forged by a little-known artist in Queens.
Michael bragged about keeping a "sex throne" in the Armand Hammer Foundation headquarters. "The structure, about seven feet high, features a chair with a hole in the seat, a cage underneath, and a hook. The Hammer coat of arms [...] is painted on the seat."
Armie got really into shibari, a form of Japanese rope bondage, and practiced his hobby by buying mannequins and inventing elaborate knots. His ex-wife, Elizabeth Chambers, suggested he write a book about his hobby called Why Knot?
His ex-girlfriend, Paige Lorenze, said she paid for everything while dating Hammer amid his divorce from Chambers, since Armie was surviving on loans from friends.
Lorenze ended the relationship via text "because you never know what you're going to get with him — he's kind of a scary person."
Chambers has been joking to friends that the only thing that makes sense, looking back on her marriage to Hammer, is the Netflix film starring Zac Efron as Ted Bundy, Extremely Wicked, Shockingly Evil and Vile.