What's the hidden meaning behind Frank Ocean's "White Ferrari" ode on 'Blonde?'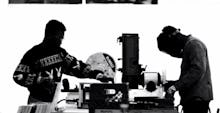 Throughout his storied rise into the upper echelons of R&B royalty, there's been one odd constant: Frank Ocean's fascination with cars, from Beamers to Mercedes to Acuras.
They've have appeared in his lyrics, in his album art, and in his music videos. They've have been instrumental in his creative process, and they appear throughout his latest LP Blonde and its accompanying Boys Don't Cry magazine, released Saturday.
"Subconscious straight boy fantasy"
Ocean's "car obsession" is his "cliché," as he described it in an essay, shared over Tumblr, introducing these two latest projects. "Maybe it links to a deep subconscious straight boy fantasy," he writes. "Consciously though, I don't want straight."
The most straightforward mention of this prime lyrical theme comes on "White Ferrari," which fans first heard rumors about back in November 2015. Ocean sings of driving with his lover, their heads in the clouds: "Bad luck to take on these rides / mind on the road, your dilated eyes / watch the clouds float, white Ferrari." The song hits on many of themes that Blonde seeks to explore over the course of its 17 tracks.
The open road
The song centers on a drive Ocean takes with his beau in an ideal, but familiar car — a white Ferrari. The open road allows their minds to wander, and they muse on love, alternate dimensions, the afterlife, and his plans for the future. "I'm sure we're taller in another dimension / You say we're smaller and not worth the mention."
Ocean believes he and his driving beau are part of something much greater while his partner takes more of a nihilistic view. Despite their differences, the two continue to connect: "Clearly this isn't all that that there is, can't take what's been given," Ocean sings. "But we're so okay here, we're doing fine."
Continuing to move forward
It's a moment of peace on an album rife with internal conflicts, nostalgic losses, and metaphysical conundrums. It seems to offer a taste of the album's ultimate wisdom: by continuing to move forward, exploring with gratitude and curiosity does life feel full.
Ocean further muses on how much cars have meant in his life in the Boys Don't Cry magazine's introductory essay, showing a gold, souped-up BMW E30 (one of his favorite car models), and the same car that appears on his debut Nostalgia, Ultra mixtape.
"How much of my life has happened inside of a car?" he writes. "I wonder if the odds are that I'll die in one. Knock on wood-grain. Shouldn't speak like that."
Nostalgia for past times
He continues explaining the role they've played in helping him create and refine his music:
We live in cars in some cities, commuting across space either for our livelihood, or devouring fossil fuels for joy. It's close to as much time as we spend in our beds, more for some ... I used to ride around in my Sinewy Crossover SUV, smoke and listen to rough mixes of my old shit before it came out, or whatever someone wanted to play when they hooked up their iPhone to the aux cord. A few years and a few daily-drivers later I'm not driving much anymore.
Still, cars are just as present in his poetry and his musings as they ever were. Judging by the questions and existential musings they continue to inspire, we'll likely be listening to Ocean's metaphysical car talk for years to come.