You can get a made-to-measure suit for the same price as an off-the-rack style — just in time for wedding season
A custom-made suit that takes your shoulder slope and knee circumference into account can cost roughly the same as an off-the-rack style.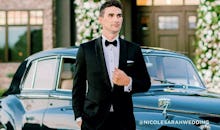 Indochino
We may receive a portion of sales if you purchase a product through a link in this article.
Wedding season is upon us and for many, that'll conjure up images of ill-fitting yet still frustratingly pricey suits. While department stores usually offer tailoring services (for an additional charge, of course), that's mostly limited to easy fixes like shortening a hem. More structural fixes like narrowing a pant leg might be available, but that'll be a much pricier fix and all too often, tell-tale alternation signs are visible in the final product (think: puckering or patterns that don't line up).
When it comes to made-to-measure suits, the biggest player in the U.S. is Indochino with more than 70 stores. And that is probably because the brand offers high-quality, made-to-measure suits for about the same as many (even non-designer) off-the-rack options.
Fast facts
Men's and women's sizing available
Variety of fabrics including a core collection as well as seasonal colors and patterns
You also choose the lining
Choose your lapel shape, number of buttons, pocket style, flap design, etc. for no additional cost
You can also order custom-made shirts, pants, chinos, overcoats, and more with your on-file measurements
Monogramming available
Made-to-measure suits start with your measurements so the flat fabric itself is cut to your fit your body. That includes basics like inseam and wingspan, but extends far beyond to things like neck size, bicep circumference, torso length, and where your waist sits. Fitting also involves non-measurement considerations like the slope of your shoulders, the shape of your chest, and even if you slouch.
Have you ever sat down in a pair of pants that uncomfortably cling to your calves and the second you stand up, you have to adjust the leg because it stays bunched up? A knee circumference measurement will help with that. Basically, the suits are cut to fit your body, and not just shortened to how long your legs are.
Since Indoccion makes each suit specifically tailored to your measurements, turnaround time is 3 to 4 weeks. There are 79 locations across North America if you want to get fitted in a showroom or ask a local tailor to take your measurements and input those online if you'd rather not do them yourself.
As for pricing, a two-piece suits starting at $449 for both menswear and womenswear, so while it's certainly not cheap, it's actually good deal for a made-to-measure suit (which can cost upwards of $1,000). However, if you sign up for the emails (and brace yourself for a lot of correspondence), you'll frequently get codes for deals like 20% off.
Browse some styles