Living with pets would be so much easier if you had any of these clever things
Humans swear by these products for happier cats and dogs.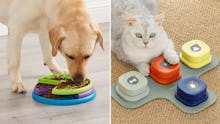 We may receive a portion of sales if you purchase a product through a link in this article.
I tried to prepare myself as much as possible before I got a dog, but in the end, nothing prepares you quite as well as first-hand experience. The fleas, the marking, the picky eating, the mishap with the neighbor's dog, the refusal to take his pain meds after the mishap with the neighbor's dog — all of it still threw me for a loop.
While the vet and the trainer were my primary resources throughout all of it, I also relied pretty heavily on Amazon, and its products that make having a pet so much easier. And they're not just for dogs, either — thousands of cat owners are obsessed with these genius products, too. Whether your pet eats too fast, brought home fleas, could do with some teeth-freshening, or needs help breaking a few bad habits, these clever items can help.