This exclusive, celeb-stylist designed sock collection dropped just in time for Father's Day
Go on, upgrade Dad's sock drawer (and yours while you're at it)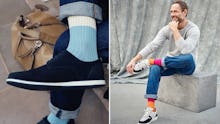 Shopping
By
Ileana Morales Valentine
We may receive a portion of sales if you purchase a product through a link in this article.
A new season calls for a wardrobe refresh, and you can step into summer with these bold new socks that are just the stylish touch that may be missing from your closet. The luxe brand London Sock Company has released its exclusive collection with stylist Michael Fisher, who works with celebs like Hugh Jackman, Sebastian Stan, Bryan Cranston, and Paul Rudd. Whether you're shopping for yourself or the dad in your life for Father's Day, there are plenty of plush, statement socks and gift sets to give that sock drawer some love.
The London Sock Company x Michael Fisher Collaboration
As a celeb stylist, Fisher's styling often starts with socks, and the six pieces in his newly launched The Block Collection, in partnership with London Sock Company, instantly add a playful pop to any look with their striking color blocking. This is right in line with London Sock Company's style philosophy that the right pair of socks can be transformative. You can buy the Michael Fisher socks individually or spring for one of the gift-worthy three-pack sets. There's also a deluxe six-pair gift set that contains the entire collection.
Accessories are really what can make personal style your own, and these tailored yet fun socks are a great start to updating — and upgrading — a look. And these are an upgrade — these pairs are pricier than most — but they're a luxe item designed with comfort, quality, and high style in mind. Each pair of socks is made in a luxurious medium knit in the brand's signature organic cotton blend for comfortable stretch. These ribbed socks hit mid-calf and are available in sizes X-Small to Large.
Shop The Block Collection
The Block Collection includes six color-blocked designs based on Fisher's interest in color theory and contrast. Here are some of the standouts from the collection.
1. A Statement Sock Sold Individually
If you want to start with one pair of these exclusive Michael Fisher socks, you can choose from any of the six color variations: After Dark, Blazer, Mediterranean Olive, Nugget, Smoke, or the featured Summer Moss.
2. A 3-Pair Set Of Classic Colors
You can score half the full collection with this three-pair collection. Go for this stylish color combo in hues of off-white, deep blue, and red.
3. Another 3-Pair Set Of Bold, Stylish Socks
Or for a bit more flair, try the exclusive socks in this sock trio that includes bolder colors, like yellow, purple, and teal.
4. The Complete Block Collection In One Box
With six pairs of bold color block socks in the full collection, you'll fully upgrade your sock drawer with this one set. And remember: any good outfit starts with a great sock.