16 Dramatic Videos Show What It's Like to Be in Hong Kong Right Now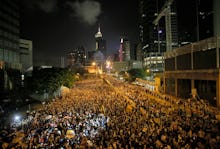 Thousands of protesters braved clouds of tear gas and police batons charges to stand firm in center of Hong Kong in one of the biggest political challenges for China since the Tiananmen Square protests 25 years ago.
Reuters reports the communist government in Beijing "made clear it would not tolerate dissent, and warned against any foreign interference" as thousands gathered for a fourth night of student-led demonstrations. An estimated 60,000 (mostly) student protesters are demanding full democracy and calling on the city's chief executive, Leung Chun-ying, to step down.
The powerful videos below, vetted and curated by social media service Storyful, provide a dramatic glimpse at the clashes between protesters and Hong Kong authorities. 
1. Drones capture an aerial view of Hong Kong's student protests.
Eddie Li, Charlene Lui, Nero Chan, Vicky Ipmanyin and Jade Yu of the THEi Film Society uploaded this video, taken by a drone, of student protesters flooding the streets of Hong Kong on Sept. 27.
2. Protesters chant in front of the government headquarters in central Hong Kong.
Video Credit: oaymc/Instagram
3. Protesters raise their hands as police walk by.
Some observers have likened this to the "Hands up, don't shoot" chant that became symbolic of the protests in Ferguson, Mo., but it's extremely unlikely that the two are directly related. "Hands up" is generally considered the international sign to show you're unarmed, an integral part of the peaceful student-led protests.
Video Credit: oaymc/Instagram
4. The moment police begin to deploy tear gas against protesters on Sept. 28.
Video Credit: jamlapyan/Instagram
5. Police use tear gas on protesters as demonstrations escalate.
Video Credit: oaymc/Instagram
6. Protesters begin to flee the government headquarters as police deploy tear gas.
Video Credit: cedricyip/Instagram
7. Protesters flee tear gas fired by police on Sept. 28.
This video shows crowds fleeing tear gas was fired at protesters, "reportedly during a speech given by Democratic Party founder Martin Lee," Storyful reports.
8. Protesters disperse as police deploy tear gas.
Video Credit: François-Xavier Pasquier/YouTube
9. Protesters distribute umbrellas.
Reuters reports that riot police withdrew on Monday, sheltered from the sun beneath umbrellas, which have become a symbol of what some are calling the "Umbrella Revolution."
10. Police push back protesters in central Hong Kong.
Video Credit: wubugz/Instagram
11. Protesters chant for Hong Kong's chief executive to step down.
Video Credit: Vivienne Chow/Instagram
12. A young protester makes a plea to the world for help.
A video of a young protester calling for the world to support Hong Kong's pro-democracy campaign has gone viral since being published on Sept. 28.
13. Students boycott classes at the University of Hong Kong.
Thousands of students boycotted classes across universities and high schools on Monday, Sept. 29, as demonstrators continued their calls for democratic reform. This footage shows a student strike held on the University of Hong Kong''s campus. 
14. Protesters sing popular protest song in the Admirality.
"Protesters remained on the streets near Hong Kong's government and business center on Monday, blocking many of the city's transport arteries," Storyful reports. "This video shows a large crowd at Admiralty, singing a popular protest song, 'Wide Sea and Sky,' by local rock band Beyond."
15. Thousands sing 'peaceful Cantonese song' in downtown Hong Kong.
Video Credit: mmiumiuchan/Instragram
16. Thousands call on Hong Kong's chief executive to step down
Demonstrators on Monday called for Leung's resignation after he branded Occupy Central, one of the organizing groups, as "unlawful."