Watch This Young Hong Kong Protester's Powerful Plea to the World for Help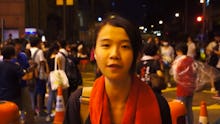 As student-led demonstrators continue to clash with police in Hong Kong, a video of a young protester calling for the world to support the city's pro-democracy campaign has gone viral since being published on Sept. 28. As of Monday, Sept. 29, her call had been viewed nearly 200,000 times, according to social media newswire Storyful.
"As a Hongkonger standing here in Wan Chai, I ask all of you from all over the world: please help us," said Glacier Kwong, a Hong Kong University student, as she looked into the camera. "You are born with democracy choices and have free election rights, but we don't. Please help us. Please spread the news all over the world."
Here's a rough transcript of this brave young woman's remarks:
Earlier today, several thousands of young Hongkongers like me were sitting very peacefully at the government house, asking the government for a real democracy and genuine election. However, with no genuine reply from the government, it sent out police with guns, armors and shields to evacuate our peaceful demonstration. Police sprayed us with harmful pepper spray and even threw numbers for tear gas bombs towards innocent people. Tears and screaming was everywhere, and people keep running to search for a shelter.We are just innocent people like you. We are just trying to protect the people in government house. We don't want to see any tragedy performing on once safest city on the planet, like those happened in Syria, Ukraine and China. Maybe all of you are born in democracy states, you are born with democratic election, you have free election right, but we don't.We need genuine democracy. We need a popvote on the constitution reform only, nothing more.Please help us to spread this video and all news of the event over the world. Tell your friends, your family, your mates and all people you contact with, to let the world know what is happening in Hong Kong. Thank you!
Editors Note: Mar. 3, 2015 
An earlier version of this article cited Reuters reporting, but did not include quotations around the cited passage. The story has been updated to fully attribute the Reuters' language.