These Might Be the Most Clever Cancer Awareness Ads We've Ever Seen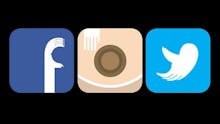 Boobs are great. 
Both men and woman are happy to have them, and with Breast Cancer Awareness Month coming up, it's a great opportunity to talk about them more. In conjunction with Singapore's Breast Cancer Foundation, design firm DDB Singapore is spreading awareness by releasing, uh, tweaked visions of the ubiquitous logos of some of our favorite social networks.
For starters, Facebook's signature f is contorted into a firm grasp:
Then there's the Twitter bird, which gives new meaning to the booby bird:
And we don't need to explain what the reimagined Instagram logo looks like:
If you've glossed over the slogans, the clever campaign reminds people to check their breasts as often as they shoot out a tweet, post on Instagram or update their Facebook status. DDB is urging the three companies to temporarily change their logos to these. 
As breast cancer awareness month gets closer, more companies will make their charitable (or self-promoting) efforts known, and not all of them are created equal. Take the NFL's annual tradition of selling pink merchandise with the promise that the proceeds will benefit breast cancer research: Data obtained by ESPN's Darren Rovell showed that the league "takes a 25% royalty from the wholesale price (1/2 retail), donates 90% of royalty to American Cancer Society."
Business Insider shows the math: 
In other words, for every $100 in pink merchandise sold, $12.50 goes to the NFL. Of that, $11.25 goes to the American Cancer Society (ACS) and the NFL keeps the rest. The remaining money is then divided up by the company that makes the merchandise (37.5%) and the company that sells the merchandise (50.0%), which is often the NFL and the individual teams.
Just 8% spent on that pink Steelers jersey goes toward research at the American Cancer Society. 
So this October, do two things: Get checked for breast cancer, and donate to one of these foundations that Charity Navigator recommends.