Finally, the Useful New Website That Debunks Silly Internet Rumors in Real Time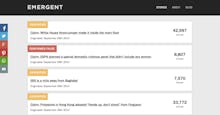 The news: If you're tired of celebrity death hoaxes and misreported news bulletins, a rumor-tracking site dedicated to sorting fact from fiction might be your new favorite. 
As evolving technologies and expectations force media outlets to report the news as quickly as they can, errors and misreporting happen more often they should (even here at Mic from time to time). 
That's why Emergent is potentially game-changing. The "real-time rumor tracker," which is part of a journalism research project at Columbia University, launched last week after two months in testing and data-gathering, and it's already making a splash. Publications from the Atlantic to the New York Times have discussed what this site reveals about the viral nature of news and the organizations that report it.
How does it work? According to Craig Silverman, the rumor researcher behind Emergent, he and a research assistant comb through mainstream and social media to find out which rumors are going viral. Then they aggregate the articles reporting the rumor, determine the veracity of the news item and let the site's algorithmic processing do the rest.
And while sites such as Politifact and Snopes serve a similar function, Emergent updates the information in real time and makes it clear which news outlets are reporting what.
For instance, Emergent tackled the bizarre story last week of a Florida woman who allegedly had a third breast implanted. As you can see in the graphic below, the site shows how many news sites got the story wrong or right (the story turned out to be false), and which sites ended up being the top sources:
What does this mean? Fiction can be more appealing than the truth: Silverman consistently found that false rumors are more likely to be written about and shared than the news of their debunking.
But as the Atlantic's Megan Garber points out, Emergent also helps point out how there is "very little uniformity among media outlets about how updates, corrections, retractions, and the like should be presented to readers."
"Most outlets will simply update a story that contains a debunked claim; a few will write new stories altogether, linking to the previous one in the process. That can leave readers, however, in a kind of epistemological limbo: You're never quite sure what's been verified and what has not. Trust is a precious resource in journalism; many outlets haven't fully figured out how to preserve it," she wrote.
So while online media goes through its growing pains to figure out how to balance speed and accuracy, sites like Emergent not only keep readers up to date, they help keep reporters accountable.