Netflix's First Original Movie? A 'Crouching Tiger, Hidden Dragon' Sequel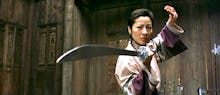 The news: Netflix is getting into the original movie business.
Crouching Tiger, Hidden Dragon: The Green Legend, as it's titled, will be available for subscribers around the world on Aug. 28, 2015. Deadline noted that original director Ang Lee isn't involved and only some of the original cast will appear. The sequel won't be shown in theaters, other than the roughly 900 IMAX theaters that dot the world.
The Crouching Tiger sequel is the first major motion picture to debut exclusively on Netflix, and, if well-executed, the movie will add another piece of flair to the company's original-content suspenders. It's already filled with documentaries, high-quality television shows like Orange Is the New Black, and a block of children's programming. 
For the uninitiated, here's the original trailer for 2000's Crouching Tiger, Hidden Dragon:
Why it matters: Netflix has already reverse-engineered Hollywood. Now, the company wants to take on the movie industry one film at a time.
Netflix's Chief Content Officer Ted Sarandos told the New York Times he's frustrated with how the movie industry releases its films. Instead of releasing movies on Netflix the day they're out, something he claims movie fans want, the industry waits several months after a film's official release before letting it appear on the streaming service.
"What I am hoping is that it will be a proof point that the sky doesn't fall," Sarandos told the Times. "These are two different experiences, like going to a football game and watching a football game on TV."
So, a big deal, yes. But a wave of the future? Not quite, Recode cautioned. Movie chains still play a "crucial role" in promoting new movies, so they're not going to be thrilled about this. 
The three major theater chains — AMC Entertainment, Cinemark and Regal Entertainment — claim shortening the release window will kill their bottom lines since consumers would stay home instead. Contracts stipulate that the chains get to show movies for three months without competition. 
"You're not going to see the new Star Wars movie, or any other big production from a big movie studio, debuting on Netflix anytime soon," Recode wrote. But don't tell that to Harvey Weinstein, who is a proponent of shaking up the movie industry. "There is a big world out there, and there are many ways to exhibit things," he told the Times. "This is the wave of the future."
A wave of the future where we don't have to spend $15 on a ticket to see badass fight scenes like this? Count us in.