California Just Went and Banned an Everyday Shopping Item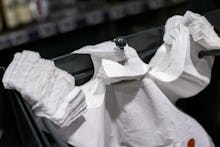 Californians better start stocking up on reusable shopping bags.
Gov. Jerry Brown (D) signed legislation that bans some types of stores from handing out lightweight, single-use plastic bags. Large grocery stores will start phasing out bags next year, while convenience markets and pharmacies have until 2016.
The measure marks a major milestone for environmental activists who have pushed plastic bag bans in major cities across the country, including Chicago, Austin and Seattle. Hawaii became the first state to ban single-use plastic bags in February.
State legislators narrowly approved the measure last month despite opposition from plastic and paper bag manufacturers. They argued that a ban could lead to a loss in manufacturing jobs. 
"If this law were allowed to go into effect, it would jeopardize thousands of California manufacturing jobs, hurt the environment, and fleece consumers for billions so grocery store shareholders and their union partners can line their pockets," Lee Califf, executive director of the manufacturer trade group, told ABC News.
Responding to the concerns about job losses, the bill includes $2 million in loans for plastic bag manufacturers to shift their operations to make reusable bags.
Los Angeles and San Francisco have their own plastic bag regulations that will remain in place. The new law is a "statewide standard and allows them to charge consumers a 10 cent fee for using paper bags," the Associated Press wrote.
The bill is a huge win for environmentalists who argue that eliminating plastic bags will cut down on litter and encourage people to live a sustainable lifestyle.
"This bill is a step in the right direction – it reduces the torrent of plastic polluting our beaches, parks and even the vast ocean itself," Brown wrote in a signing message per the Sacramento-Bee. "We're the first to ban these bags, and we won't be the last."