A Teenager Secretly Scaled New York's Tallest New Building — Here Are the Photos.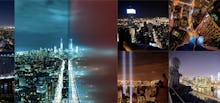 432 Park Avenue, a luxury high-rise condo in New York, isn't officially open yet, but it's already had its first unwelcome visitor.
Demid Lebedev, who's better known as demidism on Instagram to his 11,527 followers, scaled the nearly 1,400-feet high skyscraper last week and boasted about it on the social network. 
A peek at his Instagram profile shows that he's built a following for hiking up huge structures and taking dreamy pictures from his stomach-churning vantage point. It's a subculture called urban explorers, "who have made a game of accessing off-limits places," New York magazine writes.
The risky 17-year-old "urban historian" posted the pictures on his account for everyone to see. It looks like his luck ran out, as he didn't account for the New York Police Department seeing them.
Despite how gorgeous the photos are, they're a giveaway that he trespassed into the midtown building. The NYPD said the teenager admitted that he entered the building without permission and was charged with criminal trespassing and reckless endangerment, DNA Info reports. 
Information about his arraignment was not released because he might be charged as a juvenile.
Lebedev isn't the first to do this and certainly won't be the last. Four men were busted last fall for scaling 1 World Trade Center and performing a BASE jump off it, all while caught on camera. Another teen snuck into to the 104th floor of the same building to take a selfie in March.