George Clooney and Amal Alamuddin Just Gave Us the Best Reason to Love Them Yet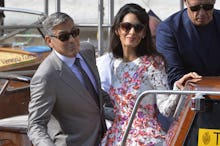 Our George Clooney vision board just grew larger. 
Over the weekend, the beloved humanitarian and actor got married to Amal Alamuddin, an internationally renowned lawyer, in Venice, Italy. The lavish, four-day wedding is estimated to cost roughly $15 million, so it's not surprise that everyone was itching to see what the star-studded spectacular looked like. First wedding photos typically turn into high-stakes bidding wars by the tabloids, and in the case of Clooney and Alamuddin's wedding, People and Hello! magazines won the rights. 
However, instead of keeping the money or using it as a ploy to garner publicity (cough, Kardashians, cough), TMZ reports that the money will go to several charities that are close to the couple's hearts.
"We're told the lion's share is earmarked for the Satellite Sentinel Project, a charity that monitors the movements of militant gangs in the Sudan ... in order to warn civilians. Clooney is a cofounder of the group, which launched in 2010," TMZ reports.
It's unclear how much money the wedding photos went for. Business Insider estimates that it likely went in the millions, similar to when Angelina Jolie and Brad Pitt sold the first pictures of their twins. They too donated the whopping $15 million asking price to charities.
The donation is just another example of what a good guy Clooney is. His charity work spans raising awareness about the atrocities in Darfur to being the cofounder of several charity organizations, including Not on Our Watch, a nonprofit that works to fight against genocides.