When It Comes To Music, America Owes Canada Everything and Nothing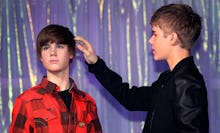 For years, Canadians have been infiltrating the American music scene. Much of Canada is, after all, essentially the Midwest, and as such the only thing really distinguishing a Canadian artist from an American artist is the fact that they tend to be nicer.
Odder than Canada's extensive contribution to our musical history, though, is how polarizing it is. We have Canada to thank for some of the best and most popular indie music we have to offer, but it's also responsible for some absolute travesties in our pop world. So, faster than you can say "Chad Kroeger of Nickelback is Canadian and married to Avril Lavigne, who is also Canadian," here's the skinny on why we owe Canada everything and nothing.
1. Everything: Wolf Parade
Wolf Parade took the yelp-sing style of Arcade Fire and perfected it. Under the guidance of Modest Mouse's Isaac Brock, the band overtook the indie scene back in the mid-2000s with a firm show of support from the Pitchfork crowd. Wolf Parade channels a dirty Bowie, with lyrics that draw attention to the meaning in even the most everyday life.
This past August, Arcade Fire reminded everyone of the band's influence by closing its North American tour in Montreal with a cover of Wolf Parade's "I'll Believe in Anything."
2. Nothing: Avril Lavigne
Few can argue that this sk8er girl wasn't the origin of early 2000 grunge. Ties, Vans slip-ons and heavy black eyeliner overtook middle schools everywhere, and Avril Lavigne made a career for herself by music that promised mainstream kids they were anything but.
But try as she may, Avril keeps failing to revamp a career that has long turned stale. Earlier this year, she attempted a comeback with arguably the worst video and was instead slammed with criticism for her cultural appropriation. Just like those plastic chokers, it's best to let America's obsession with Avril fade from our memories as efficiently as possible. 
3. Everything: Arcade Fire
Arcade Fire, hailing from Montreal, has dominated the indie music scene for the decade since Funeral. They are arguably the only real Great Rock Band we've produced in the last decade.
Their bold lyrics cross cultural bounds, and the band has a danceable, apocalyptic stadium sound. Rolling Stone deemed them unforgettable, they've collaborated with David Bowie and beat pop stars Lady Gaga and Eminem at the 2011 Grammy's for Album of the Year (the only independent nominee).
4. Nothing: Nickelback
Nickleback is pretty uncontroversial for a rock group: Everyone agrees that they're terrible.
The Guardian politely calls their lyrics painful, while Rolling Stone readers were a bit more condemning by voting them the second worst group of the 1990s. Undoubtedly, one of the worst Canadian gifts of all time. 
And yet, their credibility as an American rock band led them to be the second-best-selling foreign act of the 2000s after The Beatles, who are not Canadian.
5. Everything: Neil Young
Neil Young is such a rock star that he was inducted in the Rock and Roll Hall of Fame twice. And he skipped the second ceremony. 
One of the most influential singer-songwriters in history, Young forged a brutally honest career that molded generations of songwriters to pursue authentic musicianship and a classically American sound. Except, once again, he is Canadian.
6. Nothing: Justin Bieber
The squeaky-clean-teen-heartthrob-turned-pathetic-douche-bag had a career as quick as his latest speeding tickets. These resulted in the famous petition by ex-fans to get him deported back to Canada. Sources are uncertain if Canada still beliebs.
7. Everything: Feist
Indie princess Leslie Feist, member of Broken Social Scene, is what all pop should sound like: breezy and fun at the surface, with tremendous depth just beneath.
8. Nothing: Michael Bublé
Every soccer mom in the world can agree that Michael Bublé can sing. However, his career-long choice to cash in on watered-down versions of (generally American) jazz classics is less than admirable. 
9. Everything: The New Pornographers
With frontman A.C. Newman equally successful in his own main gig, The New Pornographers have been making interesting and catchy alt-pop since way back in 2000.
Self-described as "a vacation from rock 'n' roll music, inside rock 'n' roll music," they are a band that uses all far corners of the genre to produce albums that span from tastefully docile to the futuristic. They've had a clear effect on the indie-rock scene, forging new traditions instead of succumbing to the limits of classic indie rock. 
10. Nothing: Daniel Powter
The one-hit wonder made famous by American Idol's fifth season, Daniel Powter scored the highest-selling single of 2006 with his inescapable "Bad Day," which, in its ubiquity, contributed irony to an untold number of worsening days. He even got a Grammy nomination. Way to go, 2006. 
Despite the songs deep initial commercial success, Powter has clearly been unable to capitalize on his status as a one-hit wonder. It's been more than a bad day; it's been a bad decade. 
11. Everything: Joni Mitchell
Pitchfork has dubbed her, "America's finest living Canadian songwriter," which is almost certainly an understatement.
Joni Mitchell's voice is iconic in American music. The Canadian-born songstress of California has never been bound by tradition, and she's furthered the industry for all by strategically focusing on women's issues. A beautiful woman with beautiful music. Well done, Canada. 
12. Nothing: Shania Twain
After a 10 year hiatus, Shania Twain has recently cemented her legacy as a cheesy pop music with a two-year residency in Caesars Palace in Las Vegas.
What could be more American than that?
13. Everything & Nothing: Celine Dion
Our everything. Our nothing.