Netflix Has Ordered Up Four Original Adam Sandler Movies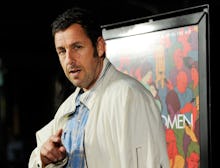 Get excited for Blended 2.
Netflix will announce Thursday that it's going into business with Adam Sandler. The comedian has agreed to produce and star in four original films that will stream exclusively on the Hollywood ball-busting streaming service starting next year.
Further details about the deal have not been disclosed yet. The New York Times notes the movies "would have the characteristics of theatrical releases," meaning they won't be cheap since they'll be produced with the same budgets of Sandler's past Hollywood extravaganzas. Netflix will solely finance the movies, which will be produced by Sandler's production house, Happy Madison Productions.
Sandler, who is best known for his goofy roles in Billy Madison, The Waterboy and 50 First Dates, knows how to draw eyeballs and loads of cash: His more than two dozen films have grossed more than $2 billion worldwide, according to Box Office Mojo. 
Why it matters: With blockbusters like that, it's no surprise that Netflix wants to get into business with Sandler. This week's deal to produce a straight-to-Netflix release of a sequel to Crouching Tiger, Hidden Dragon illustrates it's serious about gaining a foothold in producing original movies.
Netflix Chief Content Officer Ted Sarandos told Deadline that Sandler's movies are the most popular on the service in both globally and in the United States.
"His appeal spans across viewers of all ages — everybody has a favorite movie, everyone has a favorite line — not just in the U.S. but all over the world," he said.
Sandler, for his part, had his own disgusting take on the deal. 
"When these fine people came to me with an offer to make four movies for them, I immediately said, 'Yes,' for one reason and one reason only ... Netflix rhymes with 'wet chicks,'" the actor said in a statement. "Let the streaming begin!"