The First Preview of Pixar's 'Inside Out' Looks Amazing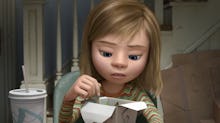 Pixar just released its first sneak peek at next summer's sure-to-be blockbuster Inside Out. 
A montage of previous films, like Finding Nemo and Toy Story, highlight all the emotions Pixar wrings from its viewers, finally transforming into a preview of the new movie. The first clip shines a light on what to expect: A story actually about the emotions, embodied as bubbly cartoons, inside a preteen girl's mind. 
The film has a star-studded roster of actors, including Bill Hader (Fear), Mindy Kaling (Disgust), Amy Poehler (Joy) and Lewis Black (Anger, obviously). It's directed by Pete Docter, a Pixar fixture who previously directed Up! and Monsters, Inc. 
Here's the plot, per Pixar:
"The emotions live in Headquarters, the control center inside Riley's mind, where they help advise her through everyday life. As Riley and her emotions struggle to adjust to a new life in San Francisco, turmoil ensues in Headquarters. Although Joy, Riley's main and most important emotion, tries to keep things positive, the emotions conflict on how best to navigate a new city, house and school."
Thank goodness it's a change from Cars. The movie is due out June 19, 2015.
H/t The Verge