In One Stunning Video, Floyd Mayweather Showed That Money Can't Buy You Everything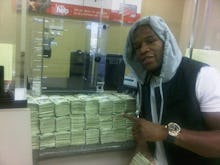 Let's start with the premise that deconstructing a viral video to draw conclusions about a living, breathing human being is reckless at best, irresponsible at worst. What meaningful judgments can possibly be inferred from a brief encounter incidentally caught on camera and presented without context?
But when the subject is Floyd Mayweather Jr., it's necessary because there's not much else to go on. There's what's public record: he's a five-division champion and undefeated in 47 pro fights, the world's highest-paid athlete and a serial batterer of women. But boxing's longtime pound-for-pound champion has manipulated the media so adroitly and manufactured his persona so comprehensively that it's often hard to identify a real person beyond the worked shoot. This is a guy who, just last week, told the Nevada State Athletic Commission that his reality show is completely staged — an infomercial packaged as cinéma vérité.
So when a grainy video emerged Wednesday that showed Mayweather as an actual human being, with all the insecurities and complexities that come with it, it offered a rare window into the psyche of one of sports' most divisive figures.
And it wasn't pretty.
The backdrop for the 74-second clip is a barbershop in Brixton, an underserved predominantly Afro-Caribbean neighborhood in South London. Almost immediately, Mayweather is drawn into an argument with a Jamaican woman who explains she doesn't know who the five-division world champion is, a claim to which Mayweather takes umbrage.
"I just don't watch boxing. I know about Mike Tyson," the woman bemusedly says, to Mayweather's disbelief. "I like big fights, I like exciting fights. If it's not big, I don't watch it."
Mayweather does what he's done better than anyone throughout an 18-year professional career: react.
Yet the crux of his argument, when countered by an opponent unwilling to back down, was uncomfortably telling.
"Do you know what Forbes magazine is?" Mayweather asks, a nod to the business publication that named him the world's highest-paid athlete. "You know the Money Man? He makes over $100 million in 60 minutes!"
What the exchange laid bare is how entirely Mayweather associates his legacy and very identity with money. And it calls into question his legacy in terms we — and he — are only just beginning to comprehend.
Some background here. Mayweather, for his flaws, is undoubtedly the finest pure boxer of his generation. For the first decade, he was Pretty Boy Floyd, the polite and humble former Olympian who scored legacy-building wins over Diego Corrales, Jose Luis Castillo (twice), Arturo Gatti and Zab Judah. 
Not until he made the conscious decision to market himself as a villain in 2006, transforming into the profligate Money Mayweather, did he start earning the kind of money that made him Forbes rich. The thinking was simple: Mayweather realized more fans would plunk down $74.95 to watch him lose than to watch him win.
It's worked. Since the fulcrumatic rebranding, Mayweather has generated nearly 14 million buys in 12 pay-per-view fights, representing three-quarters of a billion dollars in revenue, greater than the GDP of some countries. But the 37-year-old's success, it turns out, came at a cost. 
There are three simple reasons why Mayweather's sheer earning power doesn't translate to the sort of global popularity known by Muhammad Ali or Mike Tyson:
• Mayweather fights exclusively in Las Vegas. He lives there, he trains there. He hasn't fought beyond city limits since November 2005. He is a creature of habit, and the psychological benefits of what's essentially become home-field advantage cannot be understated. The trade-off is global popularity. To become a true worldwide star, you've got to take the show on the road.
• The sport is behind a paywall. While Mayweather has tapped the urban market in America like no fighter since Tyson, it's safe to assume the people in Brixton are not shelling out 50 quid for Mayweather pay-per-views. None of the United Kingdom's public channels — BBC, ITV, Channel 4, Channel 5 and S4C — air boxing. While Mayweather has cracked the code of boxing's peculiar business model to become the world's richest athlete, the model itself has, ironically, limited his global popularity.
• He is not a crowd-pleasing fighter. Ring technicians are typically the hardest fighters to market (just ask Andre Ward), so it's to Floyd's credit that he's made himself into a top-flight attraction. But it's not as if his career is chock full of "YouTube moments" that future generations will be able to easily reference.
There's a scene in the final season of The Wire where the ruthless drug kingpin Marlo Stanfield is told his reputation has been called into question. The news evokes uncharacteristic emotion from a character defined by an uncanny stoicism. What happened Thursday in South London was Mayweather's "My name is my name!" moment. He didn't lose his cool, but he was put on the defensive.
Mayweather's correlation between money and true worldwide fame is a fallacy because, believe it or not, money isn't everything.
Floyd will be remembered as a great fighter and an even greater businessman: an athlete who surrounded himself with the right people and managed to turn the tables in a sport that's traditionally conspired to exploit and defraud its workforce.
But at 37, he's learning the hard way that you can't take it with you.