Watch Matthew McConaughey Give the Most Matthew McConaughey Pep Talk Ever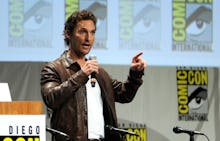 The McConaissance has pivoted into its public speaking stage. 
Overenthusiastic Longhorn fan Matthew McConaughey visited the University of Texas' football team last week to give the guys pep talk. The normally dominant squad is in a bit of a slump with a 2-2 record, so head coach Charlie Strong decided it could use some of that McConaughey zest.   
Steeped with lots of "y'alls" and "mans" in his country-fried accent, the speech started off proclaiming that he "just wanted to come, not come preach anything, not come tell you anything — just wanted to kind of have a conversation with you to see how y'all are doing."
He then launched into a preachy sermon. It didn't matter though, since the spiel was inspiring because it felt like it was coming from his heart and not a prepared statement that A-listers typically shovel onto eager ears.
Canada's National Post helpfully transcribed the deepest part:
"Why you play football? And again, no right answer. Ask yourself, man, when you look in the mirror tonight, just say 'man why do I play this game? Why am I doing this? Why do I come out and practice? Why am I out here busting my ass in the middle of the heat every day?' It feels good coming out on Saturdays when it's the big show, right? Hell yeah it does. It feels a whole lot better after a 'W' than it does after an 'L.'"
Boom, bet these boys' minds were blown. It was then followed up by a round of Wolf of Wall Street chest-pumping. After all, he was in a public setting, and it would be weird if he didn't do that.
It must have worked: The Longhorns trounced Kansas 23-0. With results like that, he should go around workplaces to get them pumped for Q4.