8 Times ABC Family Brilliantly Challenged Television's Boundaries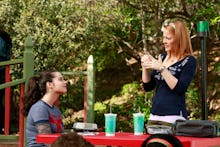 When GLAAD released their report on the television landscape this week, they gave three networks excellent grades: HBO, MTV and ABC Family. While HBO and MTV may seem like obvious choices, including ABC Family is an interesting and wise one. For years now, ABC Family has been quietly building a roster of shows benchmarked by diverse and inclusive plotlines. Sure, your first thought at the mention of ABC Family might be teenage viewers and Harry Potter marathons, but the reality is they're one of the most envelope-pushing networks around. 
What makes that reality even more important is that their shows are geared toward young audiences. Rather than play at tokenism or grandstanding, ABC Family has spent years building up a catalog more inclusive then its contemporaries. In essence, they're paving the way for what the new generation of young viewers will expect from television, and that expectation is inclusivity. 
Here are eight standout storylines showcasing the best of ABC Family as they quietly push television forward. 
1. Greek and the gay frat guy
A 2007 series about the Greek system at American colleges might not be an obvious home for three-dimensional gay characters, but that's exactly what Greek brought to the table with Calvin Owens, Omega Chi legacy, star athlete and gay college student. Rather than cast Calvin as the token gay character, Greek explored his struggles as a young gay man while also giving him many other storylines and issues to work through.
Where other teen shows and networks can use gay characters sparingly or in some sort of morality play, Greek focused on Calvin's experience in all areas of life. He wasn't the "gay character," he was Calvin, a young man struggling to find his way as he moved away from home for the first time. His sexual orientation informed his character, but Greek made sure that wasn't the only thing audiences saw about him.
2. The Secret Life of the American Teenager and the realities of teen pregnancy
Teen shows tend to shy away from pregnancy, usually using it to punish characters for acting outside the accepted norms of morality. Then along came The Secret Life of the American Teenager, which centered an entire show around a pregnant teen. Amy, played by a pre-fame Shailene Woodley, was the good girl band geek impregnated by bad boy Ricky when she loses her virginity.
The show fell into some teen drama traps, but its attempts to portray the realities of teen pregnancy set it apart. Amy wasn't the typical bad girl, nor was she a saint. She was someone struggling with the consequences of the decisions she made. In focusing an entire show on what teen pregnancy means, ABC Family did something that most other networks were (and are) too scared to do.
3. Switched at Birth and the deaf protagonist
With the exception of Marlee Matlin, there aren't exactly a lot of well-known deaf actors. That may be because deaf characters are few and far between. ABC Family's Switched at Birth turns that on its head by not only featuring a deaf character, but a deaf protagonist.
The show is about two girls who find out, as the title would suggest, that they were switched at birth. That one of the girls, Daphne, is deaf further complicates the story. This is not just a personality quirk, shunted to the side, the show uses deaf culture as a metaphor for being different. At the same time, it's more than just tokenism. Daphne is not the only major deaf character; she is surrounded by a host of other deaf characters, including Matlin. Heavy use of sign language brings an underrepresented language to a large audience of teens. Switched at Birth places deaf culture inside the television norm, allowing deaf characters and actors to flourish.
4. The Fosters and the interracial gay couple
According to GLAAD, ABC Family's The Fosters is tops in being gay and lesbian friendly. The program follows an interracial gay couple, Lena and Stef, as they raise a family made up of adopted, biological and foster children.
The Fosters doesn't shy away from the tough stuff. Over the course of its run, it has dealt with everything from homophobia to child abuse to drug addiction. While this may seem old hat for family dramas, we can't forget the interracial, lesbian couple at the heart of it all. Where most television shows sideline gay characters firmly in the supporting cast, or as part of an ensemble, these women lead and drive The Fosters' plot. The show is redefining what a family looks like, normalizing this "modern" family in the territory occupied by heterosexual families for decades.
5. The Secret Life of the American Teenager and the Down syndrome storyline
You may have thought The Secret Life of the American Teenager had enough on its plate with teen pregnancy, but it also featured a complicated, interesting and nuanced character with Down syndrome. Tom is the brother of the ubiquitous perfect blonde Christian girl. On the one hand he is a caring and protective older brother, while on the other he is a jealous and possessive boyfriend who breaks up with a girl for not wanting to have sex. While this may not seem like a step forward, that Tom has the flaws of a normal teenage boy helps to break down the stereotypes and barriers associated with Down syndrome.
6. Bunheads and its awesome female leads
Bunheads took a lot of heat for its lack of diversity, and much of that was deserved. But no one can deny the strength of its focus on an all-female cast. While women have dominated the casts of other shows before, Bunheads shunned romance in favor of exploring relationships between women.
The show, created and written by Amy Sherman-Palladino of Gilmore Girls fame, followed an ex-Vegas showgirl attempting to make it in a small town. She becomes a dance teacher, and with that, a mentor to a group of teenage ballerinas. It explored how relationships between different groups take shape, from teenagers and their romantic entanglements to young women and the adults they idolize. 
The best part was that most of these relationships and interactions, between young women and adults alike, shied away from casting the women as rivals, instead depicting them as a support system for one another. That's not to say there wasn't tension and conflict, but these tensions were set in the context of a greater understanding of support and rapport. Bunheads showed the viewing public that women can make up an ensemble without their relationships with men being the focus of every story.
7. Huge and its incredible plus-sized cast
Huge only had one season, but other networks should take its example to heart. It was a teen drama that explored typical teenage drama fare – love, insecurity, betrayal, friendship – with a cast of "plus-sized" characters. Hairspray's Nikki Blonsky starred as a well-adjusted plus-sized girl who is sent to "fat camp." There she encounters a host of personalities, counsellors and campers alike. As CinemaBlend points out, "Hollywood's definition of 'fat' is anything above a size six," but Huge took its cues from the real world instead. Rather than being relegated to the "fat best friend" role or comic relief, the stars of Huge lived and loved like everybody else.
8. Pretty Little Liars and Emily's love life
Emily Fields is the glue that binds the Pretty Little Liars group together, not to mention a lesbian character with a rotation of meaningful and diverse love interests. The show handled Emily's coming out gracefully and now exists in a happy zone where her love and sex life is treated exactly the same way as the love lives of her three other best friends. What's even better, Emily is not in the slightest defined by her sexual orientation and she's not the only high-profile lesbian character on the show.