This Amazing Cover Is Blowing Up, but No One Knows Who Sings It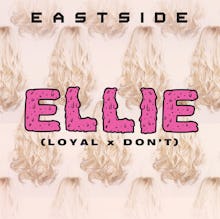 Less than a week ago, a mysterious user named "eastsideband" released "Ellie" on Soundcloud, a two-song cover EP of Chris Brown's "Loyal" and Ed Sheeran's "Don't." A week later, the track has already peaked at No.1 on Hype Machine, the music world's gold standard for trends, and has almost 60,000 plays on Soundcloud.
It's a great achievement for any musician. But there's one problem — nobody knows who Eastside is.
Eastside has all the right social media — Facebook, Twitter, Instagram, YouTube — but there is still nothing to uncover via Google search or a scan of their social media. Everything is blank or blacked out. No images. No links. No downloads. Only this equally frustrating and intriguing tweet, also posted to their Facebook page around the time they peaked.
Is it a duo? A singer? A producer? Right now, it's impossible to know. The only clue we have is that sometime this past May, Eastside was featured alongside Mayer Hawthorne in an electronic track called "Deep End" by Coucheron. Coucheron, a Norway-based DJ who describes himself as "Shia LaBeouf of the people," is a less mysterious presence — but still doesn't reveal anything about Eastside except that they're well-connected already.
This definitely isn't the first time this year that a mystery stunt like this has been pulled. Eastside's story is similar to the tale of Ryn Weaver, a totally unknown singer whose surprise collaboration with some of the biggest names in music rocketed her to fame. Eastside's tale is compelling, though, because of the apparent genius of its cover — its melding of sounds both crude and sweet — and its play 
We'll just have to wait and see if Eastside reveals itself soon. Until then, we can keep teasing ourselves with "Ellie" on repeat.