One Meme Shows Exactly Why You Shouldn't Freak Out About a U.S. Ebola Epidemic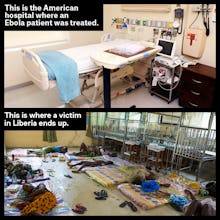 The Ebola virus is scary: It's a deadly disease that's been built up in the American imagination as an unseen, incurable killer that could bring the U.S. to its knees. Between reports that 3,300 people died in West Africa's Ebola outbreak, eerie photos of Sierra Leone's desperate attempt to control the virus and now news that nearly 100 people may have been exposed to the virus in the Dallas area, it's easy to understand why many Americans are so concerned.
"The National Institutes of Health recently admitted an American doctor exposed to the virus while volunteering in Sierra Leone. Four other patients have been treated at hospitals in Georgia and Nebraska," the Associated Press reports. As epidemiologist Tara Smith has written for Mic, the U.S. is well-prepared to contain and control the disease within our borders — and it has in the past.
"Over the last few weeks, the world has stepped up its response, with the U.S. committing to send military personnel to help train and build 17 treatment centers with 100 beds each. It still won't be enough."
"It's likely partly because the outbreak, which is truly devastating for the people living in countries like Liberia and Sierra Leone, makes for such a dramatic story," wrote ThinkProgress' Tara Culp-Ressler wrote.
Or prey on people's anxieties to politicize a public health emergency:
Or listen to conspiracy theorists:
The favorite — and terrible — maxim of broadcast journalism during the rise of TV news was "It bleeds, it leads." And that's especially true for the Internet age:
If you're actually worried about Ebola, don't watch TV: Call your doctor. 
Editors Note: Mar. 3, 2015 
An earlier version of this article cited Associated Press reporting, but did not include quotations around the cited passage. The story has been updated to fully attribute the Associated Press' language.