Did 'Saturday Night Live' Totally Rip Off This Sketch?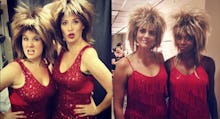 Saturday Night Live is under fire for allegedly stealing a skit from a famous comedy troupe, the Wrap reports. 
On this weekend's episode, guest host Sarah Silverman and cast members Cecily Strong and Sasheer Zamata performed a sketch set on a Nebraska riverboat, belting out their loudest Tina Turner impressions. The trio rambled about the horrors of working on the boat to the tune of "Proud Mary."
The sketch was funny enough, but on Sunday writer and director John Irwin took to Facebook to point out the similarities between the SNL bit and a sketch that was performed for a few month's earlier this year at renowned L.A.-based improv and sketch comedy theater the Groundlings. Irwin wrote on Facebook, "For several weeks at the Groundlings, Vanessa Bruiser Ragland and Kimberly Condict performed the heck out of their brilliant and hilarious sketch featuring a Tina Turner tribute band singing 'Rollin' at a casino, with their musings during the music pauses about the establishment's food, the bad hands life dealt them and a past gig on a Nebraska river boat — the sketch ends with the MC piping in." That description also perfectly sums up the SNL skit from Saturday night. 
Condict also commented on the similarity. "If you liked the sketch SNL did last night about a Tina Turner tribute band musing and singing to 'Rollin' on a River,' then you'll LOVE this sketch," she wrote on Facebook.
Take a look for yourself. 
Here's the Groundlings sketch: 
Here's the SNL version: 
A source on the NBC show told the Wrap that it's not a rip-off and that the two skits merely "represent parallel thinking in the comedy world." The source added: "It's a common idea, since Tina Turner is such an iconic figure." 
Ian Gary, a teacher with the Groundlings, slammed SNL for the sketch, saying this parallel is far from an isolated incident. He claimed on Facebook that he's seen "MANY, MANY sketches flat-our stolen from my friends" at SNL:
This is fucked up. This is stupid. And we have the means to make people aware of blatant rip-offs of other peoples material. It doesn't need to be a witch hunt. It doesn't need to be pointing fingers, assigning blame or taking sides. But a simple case of what's right and wrong.
This is certainly not the first time SNL has been accused of ripping off other comedians. In 2010, fans of comedy duo Tim and Eric accused the show of stealing a sketch of theirs called "Tiny Hats." Tim Heidecker reasoned that it was "influence" and not plagiarism. 
In this instance, there are glaring similarities spanning the premise, structure, plot details, song choice and costuming. Sure, SNL's skit focuses more on the bleak livelihood of the showboat performers, while the Groundlings skit is a goofy representation of the characters, but a storm's a-brewin'. This may not be over yet.