'Turn Out for What'? Is the New Election Video You Won't Be Able to Turn Off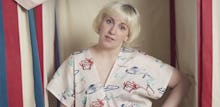 As everyone knows, nothing ignites the excitement of a 20-something more than the midterm elections.
To that end, the nonpartisan group Rock the Vote released Tuesday its latest endeavor to get us voting with "Turn Out for What" a parody of Lil' Jon's recent single "Turn Down for What." The organization bills this as a "star-studded music video for the anthem of the 2014 Midterm Elections." 
We'll let you be the judge of that:
The music video features a smattering of celebrities including Whoopi Goldberg, Natasha Lyonne and Lena Dunham, who shows up to anything nowadays. There are plenty of others, too, like "reality star E.J. Johnson," "fitness trainer Tracy Anderson" and "Darren Criss."
Granted, it's a nice effort to remind us to vote since, chances are, a lot of people aren't yet tuned into the upcoming elections. As the music video reminds you, there are important issues to be aware of and you, our little lazy voter, have the power to change them, if you turn out ... for what. On the flip side, you can think of it as an excuse to get into work late come Nov. 4.
So, please, vote next month so we don't have to watch another video like this in 2016. Although, Fred Armisen's chair dancing is hard to beat.