Twitter Is Suing the Federal Government for the Sake of Your Privacy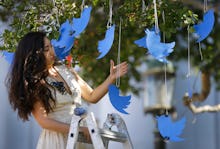 The news: The government wants your secret information from Twitter without your knowledge, but luckily for you, Twitter's got your back. The company announced Tuesday that it's suing the federal government over its cryptic surveillance laws.
Under the current system, the government can request Foreign Intelligence Surveillance Act court orders from Twitter and you'd never know about it. But the new lawsuit, filed in a northern California court, argues that the company's First Amendment rights are being violated if they're not allowed to disclose this information to its users. Twitter wants to be able to fully publish its twice-a-year "transparency report" that would highlight that information.
Currently, Twitter can only publish some of the information in those reports. A January ruling from the Justice Department said it would let them disclose how many requests it gets on a "broad range" (i.e., 0 to 999).
In a blog post, Ben Lee, Twitter's vice president of legal, writes that he hopes the lawsuit forces the government to let them be actually transparent with their transparency reports.
"It's our belief that we are entitled under the First Amendment to respond to our users' concerns and to the statements of U.S. government officials by providing information about the scope of U.S. government surveillance – including what types of legal process have not been received. We should be free to do this in a meaningful way, rather than in broad, inexact ranges."
Twitter submitted a transparency report to the FBI in July, requesting that it be published for public consumption. FBI General Counsel James A. Baker denied their request, saying they "have concluded that information contained in the report is classified and cannot be publicly released." 
Tuesday's lawsuit indicates they're still angered by that decision.
What it means. In this post-Edward Snowden world, as the Washington Post labels it, big tech firms are working hard to reassure their users that they aren't willingly giving up their private information at the request of the United States government. 
The American Civil Liberties Union said in a statement that today's lawsuit from the San Francisco-based company is good news, in that it will pressure other tech companies to be clearer about requests from government officials:
"We hope that technology companies will now follow Twitter's lead. Technology companies have an obligation to protect their customers' sensitive information against over-broad government surveillance, and to be candid with their customers about how their information is being used and shared."
Google and Facebook, two companies which receive substantially more government requests than Twitter, have begun releasing their own transparency reports, thereby also fighting for your security protection.
"[T]hese companies are no longer content with their current restrictions, and are fighting to share more specific data on the number and types of requests they regularly receive," notes the New York Times.
Twitter is taking a strong stance against government intrusion, since its users are under the impression that the social network is protecting their private information. We'll have to see if other social networks under scrutiny will follow suit.