Ridiculous Art Exhibit Portrays Putin as Hercules Because of Course It Does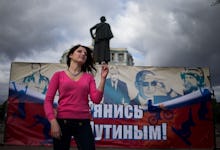 Russian President Vladimir Putin celebrated his 62nd birthday Tuesday. What did you get him? We bet it wasn't as good as "The 12 Labors of Vladimir Putin," a one-day art exhibition thrown by Putin supporters in Moscow. 
An ode to the Labors of Hercules, the exhibit depicted Putin as a modern day version of the Hulk-like Greek hero, with biceps to match. The images glorify Putin — who currently has an 80% approval rating in Russia — showing him battling his enemies on a mythical scale. 
His Western foes, for example, were cloaked as serpents, and an unruly ox being tamed represented pesky Crimea. Another piece of art replaced the Stymphalian birds with American warplanes and had Putin taking aim with a bow and arrow.
The fun didn't stop there. Moscow's Red Square transformed into a souvenir mecca where sellers sold T-shirts and sweaters adorned with Putin's pasty face. In Chechnya, a parade filled with thousands of supporters formed a 2,000-foot-long Russian flag.
What did the real Putin do on his birthday? The man's man of world leaders celebrated by jetting off into the Siberian wilderness to hunt to his burly heart's content. His press secretary told the press that the forest was about 200 miles from the nearest populated area. Putin needed some Putin time.