The Defining Hip-Hop Album of 2014 Is Finally Here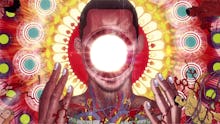 "I knew that when I set out to make this record id lose some people with the concept but i didn't do this shit to be crowd pleasing," Flying Lotus tweeted Tuesday. This was shortly after he released an amazing, totally alienating album that, with three months left in the year, has completely revolutionized hip-hop in 2014.
Flying Lotus, born Steven Ellison, has been considered a prodigy for the better part of the last decade. Unsurprisingly, legends from all genres have lined up to work with him. On You're Dead! Herbie Hancock, Kendrick Lamar, Snoop Dogg and FKA Twigs popped by the studio, but Ellison doesn't simply showcase their talent — he mixes them into his own expansive vision, audaciously elevating himself above them as a legend in his own right.
You're Dead!, then, is one of the most important hip-hop albums of the year because it puts Flying Lotus at the center of almost every genre you can think of: hip-hop, jazz, electronic, R&B, psychedelia, etc. And while he draws from the tradition of all of those, he also transforms each one in the process, like melding hip-hop and jazz in staggering ways.
And it works incredibly. "Never Catch Me," the single featuring Lamar, caught fire a few weeks before the album's release. What's most striking is that it isn't a Lamar song. His vocals rip through the mix but hold equal billing to Ellison's floating piano; Lamar's last verse even gets upstaged by a scorching bass solo from Thundercat, one of FlyLo's frequent collaborators. Lamar's cameo simply serves as a landing spot after the album's first five minutes — which are meant to re-enact the earth's creation — before Ellison takes off again, frenetically, into uncharted territory.
And while Ellison mostly upstages his big-name friends, he also gets more out of them than most other producers could. He challenges and enlivens each. Lamar's verse does far more than his new single, "i," to signal that he's only grown stronger since the career defining good kid, m.A.A.d city, and Snoop Dogg sounds more focused and fierce on "Dead Man's Tetris" than he has in years. Meanwhile, Thundercat is the driving force behind most of the album, and the improvisatory collaboration with Hancock on "Tesla"
The best moments of the album, though, come when Ellison takes over himself. He turns ecstatic and soulful on the slow jam "Siren Song" and otherworldly on the creeping "Ready err Not" — his shifts in production from segment to segment, from electronic to acoustic, from '70s funk to King of Limbs-era Radiohead experimental rock, are less surprising than shocking.
And he even gets on the mic himself for "Coronus the Terminator," revealing a silky, tortured whisper reminiscent of Andre 3000. Ellison has never really showcased his vocals like this, and the song is one of the best things he's ever done.
All the bold experimentation makes for a meandering album at times. But Ellison could care less about making it on the radio. He's aiming for the cosmos, and to ponder life and death, and explore the liminal spaces between every surface. There are lots of easy ways to put out albums, but that's not what Flying Lotus does: