This New Toshiba Tablet Ad Is Kinda Racist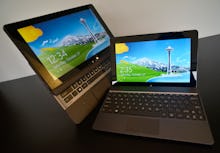 Brace yourselves: A Toshiba apology is on the horizon.
The Japan-based computer manufacturer recently released some peculiar ads in Croatia, which are garnering criticism from customers. The ad shows two slanted tablets above the caption "thin Japanese tablets." 
Wait, what? Some have claimed that the tablets are obviously positioned to resemble slanted Asian eyes. But Toshiba's Croatian creative agency, Señor, claims it's a nod to Toshiba for being the last Japanese tablet company to have a Croatian presence. "Toshiba is the only Japanese tablet brand currently present on Croatian market," wrote Señor in a blog post. "Why not remind people of this fact and evoke all the positive emotions Croatians have about top Japanese technology." 
Disturbingly, Señor presented their vision for the ad campaign at Weekend Media Festival in the Croation city of Rovinj under the title "Kosooki" — which translates from Croation to "chinks." 
Some customers are already voicing their displeasure on Twitter:
Sure, instead of reminding buyers of the tablet's reliability, build or price, let's conjure up racist stereotypes that have plagued Asian cultures for years. This campaign makes Toshiba's tagline, "Leading Innovation," a bit less than believable.