This Basketball Player's Selfie Is Going Viral for the All the Wrong Reasons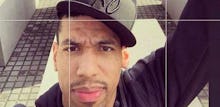 It's hard for some of us to have selfie-restraint.
Danny Green, a shooting guard with the San Antonio Spurs, is a prime example of that. While visiting the Holocaust Museum in Berlin on Thursday, he snapped a selfie with the equally deplorable caption "You know I had to do it one time lol #Holocaust."
The picture, posted to his personal Facebook account, quickly drew ire from his 615,000 followers before he deleted it. Green was in the German capital for an exhibition game and quickly went into damage control by altering the caption: "A lot of history here, more than you could imagine...very sad/tragic things happened #holocaust #berlin."
He deleted the post soon after. And for the right reasons, since it's an obviously disrespectful thing to do in a place honoring those who died in Nazi concentration camps during World War II. 
Green further apologized on his Twitter account:
Despite his apology tour, reaction on Twitter was swift and rude. People called him "crap," "scum" and "your a fucken idiot." Welp.
It's another idiotic moment in human history. In July, the Internet turned its Eye of Sauron toward a teenager girl who posted a bubbly selfie at the Auschwitz Concentration Camp. 
Though, as the Guardian's Lilit Marcus points out, as long as we treat these historical sites like attractions or even vacation amusements rather than the very serious, solemn places they are, it's pretty much inevitable that visitors won't regard them with the gravity they deserve. 
"For some people, a visit to a place like Auschwitz isn't about paying respect or learning about history — it's simply yet another 'must-see attraction' they're checking off in their guidebook, a thing to be Instagrammed, like the Mona Lisa or the Leaning Tower of Pisa."
The next time we're visiting somewhere somber, let's try to keep our selfies out of the picture.