Snapchat Is Making the Change We've Been Anticipating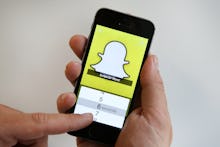 The news. Your Snapchat selfies are about to be bombarded with ads.
Snapchat CEO Evan Spiegel finally confirmed Wednesday that ads are coming "soon" to the app. It's a huge step as the tech company proves to its investors that it's actually worth its $10 billion valuation and develops into a profitable app.
What it means. In an interview with Katie Couric at the Vanity Fair Summit in San Francisco, the 24-year-old said the disappearing ads will appear in the Stories feature, a stream that lets users sew together videos and photos that disappear 24 hours later.
Details were scarce: It's unclear when the ads will begin appearing or what brands have signed on. Spiegel said the ads aren't targeted, meaning they won't be tailored to individuals' interests, a practice commonly used by Facebook and Google. This means you may end up being bombarded with ads for things you couldn't possibly be interested in.
Spiegel swore the ads won't be annoying: "We're cutting through a lot of the new technology stuff around ads to sort of the core of it, which I think has always been telling a story that leaves people with a new feeling," he's quoted as saying per the Wall Street Journal. "They're not fancy. You just look at it if you want to look at it, and you don't if you don't."
Over the summer, Snapchat tested an "Our Stories" feature that lets people post snaps into a Snapchat stream that anyone can view. The biggest example was during the World Cup in Brazil and they're still seen during college football games and big concerts. PC World hints that the space could become a "fertile ground" for advertisers. 
Why it matters. The move is entirely expected since the 3-year-old app needs to become profitable to appease its investors, but the cautious restraint Spiegel is exercising is interesting. As exemplified by the rapid rise of Ello, users are getting sick of being bombarded with ads, so Snapchat is smart to figure out a sly way to incorporate them.