The NFL Finally Has a Family-Friendly Super Bowl Halftime Show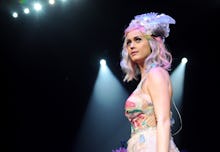 The news. Rise up, KatyCats: Katy Perry is set to perform at this year's Super Bowl XLIX halftime show.
According to multiple media reports, the NFL chose Perry because she fits the league's requirement of being a "family-friendly" performer who won't enrage the spectacle's 110 million-plus annual viewers. The game airs Feb. 1, 2015, on NBC.
The NFL was rumored to be considering Coldplay and Rihanna, the latter of whom likely isn't on speaking terms with the league after CBS bounced her Thursday Night Football performance of "Run This Town" following the Ray Rice controversy. 
So, there's Perry. Perry's resume of chart-topping hits, massive social media following and the talent of producing a "safe" performance is just the bubble gum-flavored concoction the NFL needs. Also, after years of boring shows, Perry brings a much-needed pop to halftime. Besides, she fits the NFL's recent trend toward younger performers like Bruno Mars and Beyonce.
Perry is also a safe bet. After Janet Jackson's "wardrobe malfunction" 10 years ago, the NFL has gone to great lengths to avoid another performance-related controversy. Billboard writes that Perry is "right in the Super Bowl's wheelhouse, then: a hit-maker with no real cause for concern amongst parents." And given the NFL's recent spate of bad publicity stemming from its gross mishandling of the Ray Rice domestic abuse scandal, the league likely wants to shore up goodwill in any way it can.
At the same time, the decision comes with some baggage. Perry has slammed the NFL's requirement that artists pony up for the privilege of performing at the halftime show. "I'm not the kind of girl who would pay to play the Super Bowl," said Perry last weekend in an appearance on ESPN's College GameDay.
The NFL hasn't confirmed the news, but there'd better be fireworks of all kinds.