Meet the Mormons Who Want to Change the Church's Relationship With LGBT Americans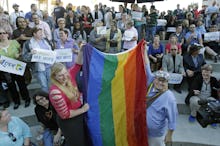 The news. Over the past few weeks, America has gotten gayer. 
A recent spate of court decisions has legalized same-sex marriage in dozens of states, including Mormon bastions like Idaho, Utah and Nevada — and those states are becoming a hotbed for a group of Latter Day Saints members who want the church to accept gay members, the Associated Press reported.
"People under 30 all know somebody who has come out. They are not the other, they are not scary. They understand that they are just like them," said Erika Munson, co-founder of the group Mormons Building Bridges, which is pushing the faith to be more accepting of gays and, in turn, hoping to change people's attitudes about Mormonism in turn. 
"So, that's really hard to reconcile with a Christian church where we follow the teachings of Jesus."
The background: For years, the church has viewed homosexuality as a "sinful behavior," so much so that it had fended off pro same-sex marriage initiatives in several states and helped pass California's Proposition 22 in 2000, which defined marriage as a union between a man and a woman, and was struck down by the state's Supreme Court eight years late.
The church has eased up on its vitriolic attitude toward the LGBT community in recent years. After last week's news that the U.S. Supreme Court rejected Utah's appeal to keep its ban on same-sex marriage, the church acknowledged that "as far as the civil law is concerned, the courts have spoken" without adding in anything hateful. But there are still high-ranking officials vehemently against it.
Dallin H. Oaks is one of those leaders. At a conference full of Mormons in Salt Lake City last week, he said that same-sex marriage is threatening Mormon beliefs, but there was something different about it: "Yet he also urged members to be gracious toward those who believe differently in what many gay advocates in the church saw as the latest example of the softer tone leaders are taking," according to the Associated Press.
Still, there's a lot to be done before Mormons fully accept homosexuality. But then there's Spencer W. Clark, a devoted Mormon who told the Associated Press that his view shifted on homosexuality once he started befriend gay and lesbian friends throughout this life. He is a leader of a Mormon group that support same-sex marriage, even if his church doesn't. 
Despite that, he hopes that there are gay Mormons become members of the church to break down barriers. 
"This helps people be more comfortable with it because it's no longer the big, scary unknown," he said. "They'll find out this isn't the doomsday scenario."
Why it matters. As same-sex marriages become more common, other conservative religions are slowly becoming more welcoming.
The Roman Catholic church released a document Monday that said it hopes to make gays feels welcome, even if it still disagrees with same-sex marriage and finds gay sex a sin. 
"Homosexuals have gifts and qualities to offer to the Christian community: are we capable of welcoming these people, guaranteeing to them a fraternal space in our communities?" it read.
As religion institutions continue to grapple with declining membership, moves like these could serve as a way to welcome people who feel disenfranchised. And considering how archaic these organizations are, that's something.