After Speculation of His Death, Kim Jong Un Made His First Appearance in Weeks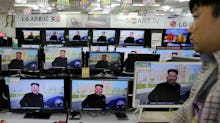 After a prolonged absence from the public eye fueled speculations about his health or even fall from power, North Korean dictator Kim Jong Un appears to be alive and well.
State media showed Tuesday what was purported to be new images of Kim surrounded by a cohort of generals conducting a round of "field guidance" at a housing project, USA Today reported. The only sign that Kim is in trouble is that he's seen walking with a cane, suggesting he's recovering from an ankle problem.
According to the Korean Central News Agency, Kim "inspected various parts" of the Pyongyang housing development and expressed "great satisfaction" in the project. It's the first time in more than 40 days that the news agency has mentioned him — a move likely to diffuse the speculation that's gravely ill or not in control.
According to the New York Times, the report wants people to believe that Kim didn't have any trouble moving about during the visit. The state-run newspaper splashed several pictures of Kim looking generally healthy, besides the leg ailment.
Sejong Institute in Seoul's North Korea expert Paik Hak-soon told USA Today that these pictures mean it's business as usual over there.
"Regardless of what injury he had, there is no indication whatsoever of his losing power, or that he has been challenged by anybody in power," he said. "The 'Supreme Leader' system just functions without any serious problem. There is normalcy over there."
At least that's what they want you to think.