Taylor Swift Just Released a New Song and Everyone's Pretty Sure They Know Who It's About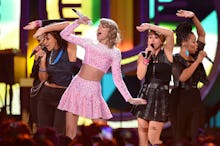 Taylor Swift's march toward world domination continued Monday night with the release of her new single "Out of the Woods." 
Earlier this summer, Swift gave us the catchy "Shake It Off." Her second single off 1989, due out Oct. 27, has ditched the horns and handclaps of her joyful manifesto about fending off haters. In their place, Swift and cowriter Jack Antonoff (Bleachers frontman and Lena Dunham's boyfriend) have delivered the one thing guaranteed keep this album on the path to megahit-dom: a break-up song about One Direction leader Harry Styles.
The lyrics are available on Swift's Tumblr, but for those who have been following her music (as opposed to, say, her dating life), here's some background: Styles and Swift briefly dated in late 2012. Most notably, they were seen making fun of a seal at the zoo. Nearly two years later, Swift's legion of Internet best friends believe the song to be the long-awaited debrief on Styles, who, as Vulture noted, was most recently spotted vomiting on the side of a freeway in Los Angeles. 
Rolling Stone, a magazine that also cares about Swift's music, was the first to divine the relationship connection: 
Of all the songs on the album that seem to be about Styles, the most intriguing one is "Out of the Woods." Cowritten by Antonoff, it's a frantic tale of a relationship where, Swift says, "every day was a struggle. Forget making plans for life – we were just trying to make it to next week." The most interesting part comes when Swift sings, "Remember when you hit the brakes too soon/Twenty stitches in a hospital room." She says it was inspired by a snowmobile ride with an ex who lost control and wrecked it so badly that she saw her life flash before her eyes. Both of them had to go to the ER, although Swift wasn't hurt. She corrects herself: "Not as hurt."
So it begins again — another Swift album, another round of personal speculation, another round of undeniable hits. All signs suggest that the star will continue her perpetual hot streak with 1989, crafting irresistible pop songs to convey the state of her life. But don't be fooled by the break-up song — Swift maintains that 1989 is a more mature take compared with her last albums. 
"Different phases of your life have different levels of deep, traumatizing heartbreak, and in this period of my life, my heart was not irreparably broken," she told Rolling Stone. "So it's not as boy-centric of an album, because my life hasn't been boy-centric."
But there will always room for an old-fashioned Swift break-up song.