There's Actually Great Job News for the Class of 2014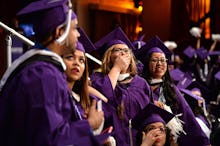 The news. Don't fret, college graduates. There are jobs out there.
Grads are entering the healthiest job market in more than a decade, according to a new survey released by researchers at Michigan State University. In fact, employers are forecast to hire 16% more grads with bachelor's degrees compared to last year.
That jump in growth means the labor market is finally surging back and becoming favorable to young 20-somethings. "Employers are recruiting new college graduates at levels not seen since the dot-com frenzy of 1999-2000," Phil Gardner, the study's lead researcher, told Michigan Live. The full report will be issued in November.
The survey is conducted annually by MSU's College Employment Research Institute. Researchers culled results from more than 5,700 companies from every state that said they're looking to give jobs to 120,000 new graduates this year.
The results. Grads hoping to work in the information services sector will have the biggest advantage, because it experienced the biggest hiring boost at 51%. Finance and insurance degrees landed in second place with a 31% increase. The only sector not to measure a double-digit increase is the educational services field, which actually dipped 2% because "hiring in this sector never gels until late spring," the survey said.
Although that part of the survey focused on bachelor's degrees, the survey says "almost all" graduates with any degree will find a more receptive job market this year. 
Only companies employing between 101-1,500 workers will hire fewer graduates with master's degrees and companies with 1,501-10,000 workers will hire fewer grads with professional degrees. "Neither group, however, will dampen overall growth," the survey said.
Lastly, employers expressed confidence about the strength of their pool of talent. Nearly 85% of companies hired at least one new college graduate last year. That's expected to increase to 97% this year. Also, fewer employers said they won't be hiring this year (only one-fifth) and 82% rated the college labor market as "very good to excellent." 
Don't get cocky. May these results ever be in your favor, but it doesn't mean you're a shoo-in for any position. Recruiters said they still see underqualified candidates applying for jobs not appropriate for their skill set. The cover letter and résumé are important first impressions, so make sure you triple-check them.
Bottom line: Do your research the survey said. 
Recruiters and employers observe students entering the recruiting season with lackluster résumés and slipshod cover letters. The students who receive interviews appear unfocused and unmotivated. The ones who receive job offers display unrealistic expectations about starting salaries and ignorance about labor market conditions. Such candidates may be diamonds in the rough, but employers want to see at least a modicum of polish.
Nevertheless, the numbers are shifting in the right direction. It felt like we weren't going to reverse this trend when you look at similar stats from 2012, when more than half of college graduates were underemployed or jobless. 
"Taking underemployment into consideration, the job prospects for bachelor's degree holders fell last year to the lowest level in more than a decade," the Associated Press reported two years ago. It added that only three sectors were reporting growth, compared with seven now.
If that's what a difference just two years makes, imagine how happy the kids of class of 2016 are going to be.