Macy's Sets Out To Ruin Your Thanksgiving Even More Than Last Year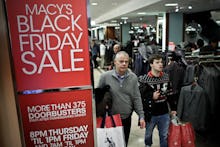 The news. Thanksgiving Thursday is the new Black Friday.
Macy's announced Tuesday it's getting a jump on the holiday shopping sales by opening at 6 p.m. on Thanksgiving Day itself, two hours earlier than last year and six hours before Black Friday even starts.
For the past few years, Macy's has been opening its doors earlier and earlier to further cash in on the shopping frenzy known as Black Friday weekend, which starts the day after Thanksgiving and signals the start of the holiday shopping season. Last year was the first time it opened on Thanksgiving itself, at 8 p.m. The retailer opened at midnight on Fridays in years prior to that.
Macy's swears its workers don't mind having their Thanksgiving dinners with friends and family disrupted. In a statement to CNNMoney, Macy's said the stores are staffed by employees who volunteer to work and are given extra pay. "We also heard last year from many associates who appreciated the opportunity to work on Thanksgiving so they could have time off on Black Friday." 
The expanded hours are your fault, too, since it's "in response to the significant, sustained customer interest in last year's opening on Thanksgiving."
Macy's isn't alone. Other big-box stores are participating in this trend dubbed "Christmas creep," a "capitalistic holiday arms race" that motivates shoppers to get in earlier and spend more.
For the past few years, Toys R Us opened Thursday at the absurd hour of 5 p.m. Target, Kohl's and J.C. Penney opened a few hours later at 9 p.m. Some Kmart locations didn't even bother to close on Thanksgiving last year and opened at 6 a.m.
These crazy hours initially sparked protests from shoppers and workers alike for infringing on the holiday. Some even started online petitions to persuade the retailers away from opening Thursday, but those yielded negligible results. As time goes on, customers don't seem to care anymore about those issues. 
"Consumers have started to accept that shopping on Thanksgiving is a growing habit," Steve Osburn, a shopping consultant, told USA Today. "With consumer acceptance comes more people shopping."
Does it pay off? Kind of.
It depends on when Thanksgiving falls in the month. The earlier the holiday begins, the more people will spend. In fact, a consumer will spend an extra $6.50 for every day earlier that Thanksgiving falls. "That means holiday spending is elastic to some degree — even with our set lists of gifts and recipients, we're willing to spend a little bit more, given a little more time," Vox noted. 
But those extra hours on Thanksgiving night shouldn't be discounted. This year, there's only 28 days between Thanksgiving and Christmas. That's a relatively short shopping window compared to years past. (There's 32 days when Thanksgiving lands on the 22nd, as it did in 2012.)
So those extra hours "could be a significant boost to store sales," Osburn said. Stores are also staffing up during this time of year — Macy's is adding 86,000 seasonal employees — which should help the labor market.
Nevertheless, it must be stopped. Critics argue that this trend needs to be stopped by the government. Charles Wheelan, an economist, argued that point last year in the U.S. News and World Report. 
"Every party to this shopping melee is acting rationally, but collectively they have made a mockery of Thanksgiving for no purpose whatsoever," he said, also calling it an arms race. "That's not my inner Puritan speaking; it's basic logic. Everyone could get the same deals on the same stuff if they started shopping on Friday morning instead."
He writes that the government should step in and "make us better off by limiting our choices." 
Good luck with that, buddy. We can think of a few hundred other issues the White House is dealing with, and interfering with the free market on a Thursday in November probably isn't one of them. If you want to put a stop to this, two words: Don't shop.